A laptop comes with a variety of ports having specific features and uses. These are used to connect HID (Human Interface Devices), or storage devices to a laptop. In this blog post, we have listed 17 different types of laptop ports.
The newer versions of laptops have a limited number of ports. Two different models of laptops may have different types of ports. Moreover, due to their different features like power and data transfer capabilities, selecting a laptop with the right port becomes important.
List of Different Types of Laptop Ports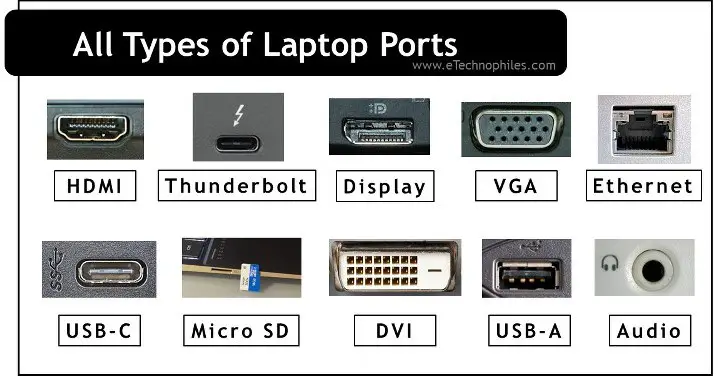 USB-A
HDMI
Thunderbolt
USB-C
VGA (in older laptops)
DVI (in older laptops)
DisplayPort
Audio Jack
Ethernet
Micro SD
Charging port
Security Slot
What are the different types of laptop ports?
A laptop has USB ports, VGA port, HDMI port, Ethernet port, 3.5mm audio jack, and slots for an SD card. Depending on the laptop model, it may have some other ports also (like Thunderbolt, or display port). In order to learn about each port, we can classify the ports on the basis of their type:
Data transfer ports
Video output ports
Audio output ports
Network port
Card Readers
Security Slot port(Kensington)
Now, let's understand each category in detail.
Kensington Security Slot
You may not know this, but your laptop does have a security slot that can prevent it from being stolen when working outdoors. It can be found near the laptop hinge on the right panel.
You can either connect a key or combination lock to the port and then tie the other end to any object.
Data Transfer
A wired connection between a laptop port and the external device is one of the most common ways to transfer data. This option is fast and better than other wireless methods. The different types of laptop ports dedicated for data transfer are discussed below.
USB A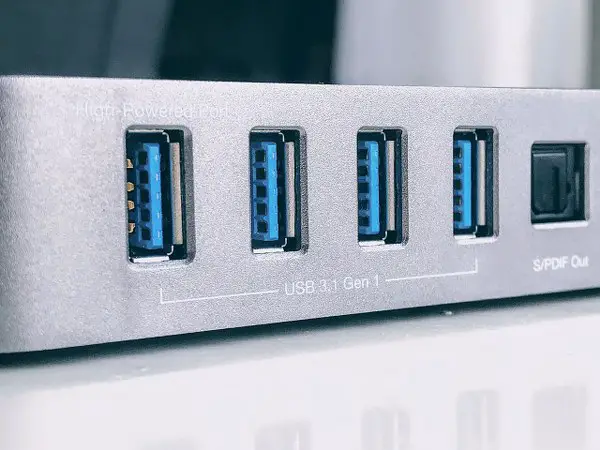 USB A is the most common port found in laptops to transfer data. It also works as a connector doe for low-power devices like mice, keyboards, etc. It is rectangular in shape and larger compared to other USB types.
The data transfer speed of USB A is 480 Mbps and can be used easily with other devices. On the laptops, the USB type A is always USB 2.0 standard.
USB C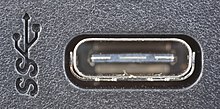 USB-C is the latest and widely used connector to transmit data and power. It stands out among the other USB types in the market due to its attractive features and functions.
A unique feature of USB-C is that it has a small and reversible connector. The connector shape is symmetrical so it can be plugged into the port either way. USB-C supports the data speed of 10Gbps which is better than other USB ports available in the market.
What are the advantages of using USB-C?
USB C is a 24-pin connector. It is the only port supported by the upcoming USB 4.0 standard with a data transfer speed up to 40Gbps!
Another peculiar advantage of USB C is that the Power Delivery Certified USB C ports can handle a current of 5A at 20V, which is enough to power most USB devices.
It also comes with fast charging technology. It can handle large currents at the same voltage range and hence, delivers power up to 100W, which is more than sufficient to charge laptops.
USB C is thus supposed to replace the other USB types. The premium laptop brands have already switched to USB C which also helped them to reduce the thickness of laptops.
Thunderbolt 3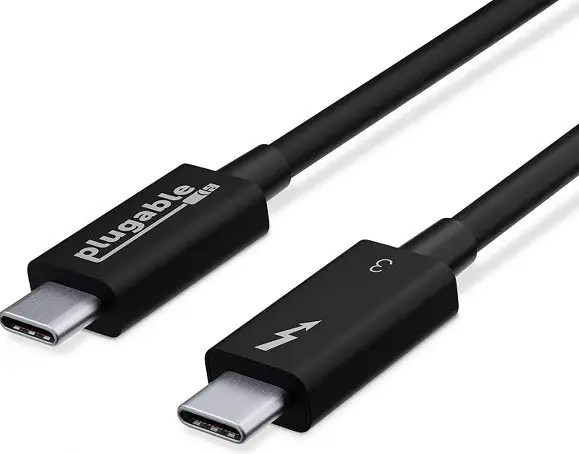 Thunderbolt is not present in all laptops. It is usually incorporated in Apple gadgets like MacBook Pro laptops. It is the fastest port available in the market (till now), as it transfers data within the range of 10Gbps to 40Gbps speed.
Note: Thunderbolt is very frequently confused with USB C since the connectors are similar in shape and size. But it is important to distinguish between them as they differ in several characteristics.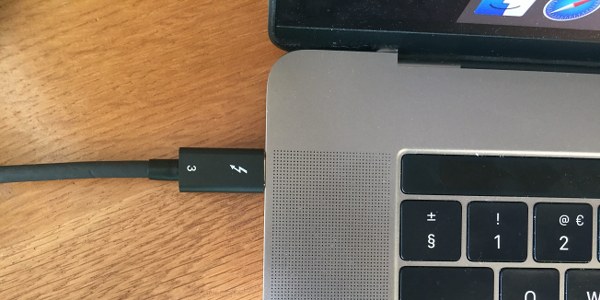 Difference between USB-C and Thunderbolt (Types of Laptop Ports)
| | | |
| --- | --- | --- |
| Feature | USB C | Thunderbolt |
| Data Transfer Speed | 10Gbps | 10Gbps to 40Gbps |
| Charging Speed | 2.5 Watts (if no Power Delivery Protocol) | 15 Watts (if no Power Delivery Protocol) |
| Cost | Reasonable | Higher |
Difference between USB-C and Thunderbolt
The comparison shows that Thunderbolt delivers power up to 15 watts. As it predominates in features compared to that of USB C, its cost is also higher than that of USB C.
The ports almost look alike. But they can be distinguished by simple observation. Thunderbolt ports have a zig-zag arrow on their side while USB-C ports do not have any symbol.
If you want to know more differnces between USB-C and Thunderbolt, read this article:
Display
With time, the mode of displaying is getting better. The new connecting methods are simple with enhanced picture quality. The size of connectors is also getting compact, thus reducing the thickness of laptops.
Let's now go through the different types of laptop ports available for display.
VGA Port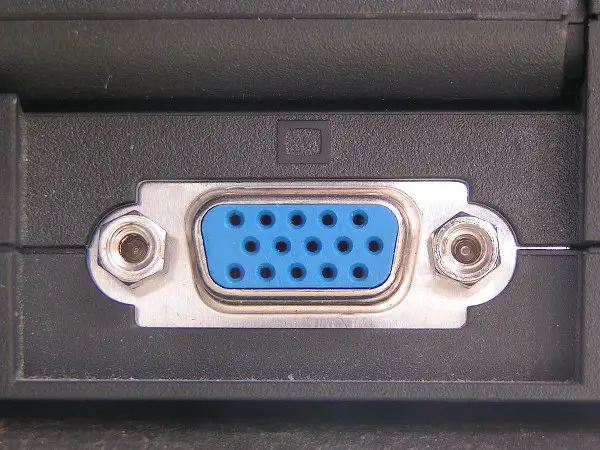 VGA stands for Video Graphic Array and it carries analog video signals. In old models of laptops, it was a common way to connect external monitors or a projector.
The resolution of the signal displayed by VGA is around 648×480 pixels. The connector of the VGA standard is called DE-15 which is a D-sub connector with 15 pins in 3 rows.
These connectors are still used in display devices like projectors, video cards, and High Definition TVs but are not preferred as it carries the analog signal. Now, most devices work by carrying digital signals. Hence, the VGA ports are replaced by HDMI and Display Ports.
---
Looking for some best adapters?
---
Digital Video Interface (DVI)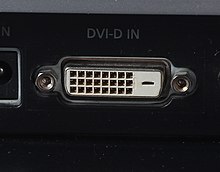 DVI is the high-speed interface between a computer and a display device. It ensures the lossless transmission of digital video signals. (Read more)
DVI connectors are available in three types which are distinguished based on the signals carried. These are DVI-I, DVI-A, and DVI-D. In DVI-I, the 'I' stands for the integrated capability to support analog and digital signals. DVI-A supports only analog signals and DVI-D supports only digital signals.
What are different versions of DVI?
DVI has two versions: Mini-DVI and Micro-DVI.
Mini-DVI

Mini DVI is smaller in size and was developed by Apple to replace Mini-VGA ports. These are smaller than the Mini-VGA port. This 32-pin port can carry the signals from VGA, DVI, composite, and S-Video with the support of respective adapters.
Micro-DVI
Micro DVI transmits only the digital signals. It has a smaller connector than the Mini DVI.
HDMI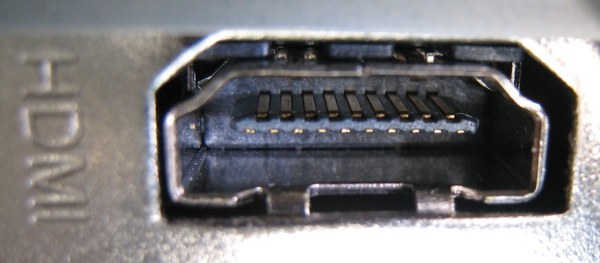 High Definition Multimedia Interface, HDMI in short, is currently the most preferred standard for connecting TVs and other external monitors to a laptop. It produces uncompressed digital data consisting of video as well as audio output.
The common HDMI port supports a 19-pin connector. The new super-slim laptops are usually incorporated with smaller versions of HDMI connectors, like Mini HDMI and Micro HDMI.
What are different versions of HDMI?
HDMI has two versions: Mini HDMI and Micro HDMI.
Mini HDMI
It is version 1.3 of the HDMI standard. It has the same 19 pins but is smaller than the regular HDMI connector. Being smaller, it is not as popular as a regular HDMI connector. The Mini HDMI connectors are used in laptops, cameras, camcorders, etc.
Micro HDMI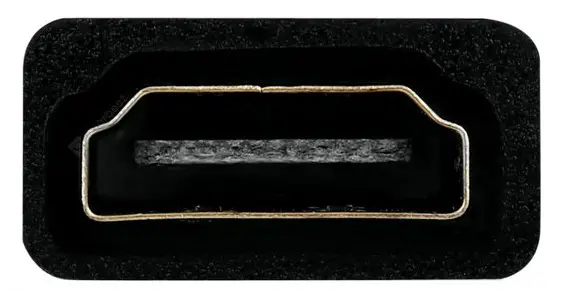 The Micro HDMI is the successor of Mini HDMI. It is version 1.4 of HDMI connectors. This model was also designed with 19 pins, but with a different pinout. As it is obvious, Micro HDMI is smaller than Mini HDMI which makes it similar to a Micro-USB port.
Micro HDMI is used where it is practically difficult to install a regular HDMI port. For example, in single-board computes like Raspberry Pi. Some cameras also incorporate Micro HDMI ports.
Display Port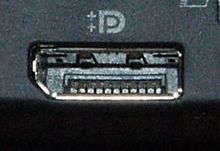 It is the most advanced port which is capable to transmit video signals of 4K resolution for a single monitor. All the laptop models may not be integrated with the Display port. But with wire adapters, an HDMI port can be used as a Display port. (Read more)
It is a 20-pin connector and carries high-resolution videos. The Display Port has also a smaller version which is called as Mini-DisplayPort.
Read also: How HDMI is Different from Displayport? (5 Key Differences)
Mini-Display port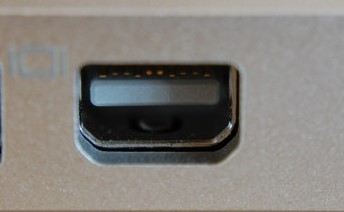 The mini display port was launched by Apple with a 20-pin connector. Even though the number of pins is the same, its pinout is different. Its size is also smaller than the regular version.
Audio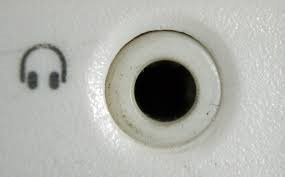 All types of laptops have a 3.5mm Audio jack to connect wired earphones or headphones. This port supports almost all wired headphones and is present in laptops, tablets, and mobile phones. It can also support wireless headphones with the corresponding adapters.
Network
The laptops have the provision to connect with Wi-Fi and other wireless networks. However, the network speed and efficiency of wired network connections cannot be achieved with wireless networks. Hence laptop comes with a port that connects to the LAN network.
Ethernet RJ-45
RJ-45 allows direct LAN connection to the laptops. This port offers a data transfer rate of 10 Gbps. These ports are also referred to as Gigabit Ethernet and 10/100 Ethernet. RJ-45 is an un-keyed modular connector of 8 pin – 8 contact (8P-8C) type.
These connectors are usually integrated with LEDs that indicate data transmission and packet detection. The twisted-pair cables, which are commonly referred to as Cat5e are typically used with an RJ-45 jack.
Card Readers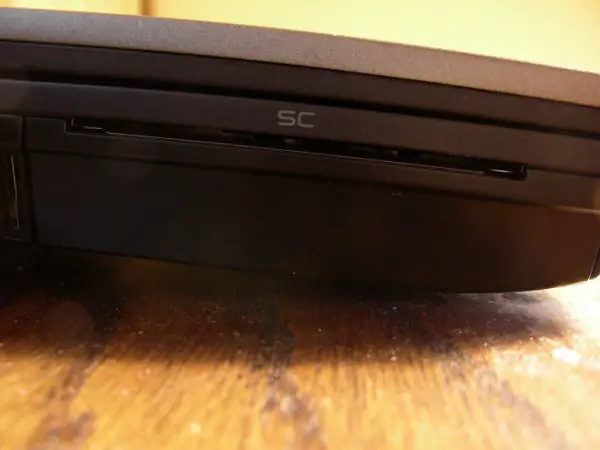 Laptops are integrated with a thin slot to insert a memory card / SD card. The memory cards aid in extending the memory capacity of laptops. Let us familiarize ourselves with the card reader ports present in a laptop.
SD Card Reader
A regular card reader is highly convenient to transfer files directly from devices like a digital camera. Additional card readers are available in the market to read multiple cards. These are 3-in-1 card readers, 4-in-1 card readers, 5-in-1 card readers, and SDHC-card readers.
Micro SD Card Reader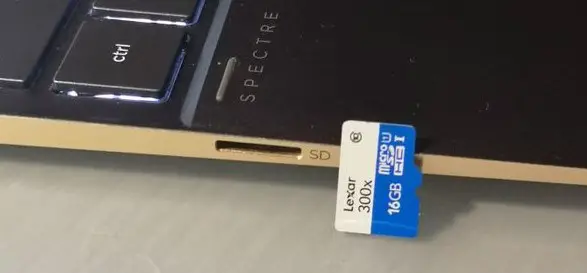 As the name suggests, these ports read Micro-SD cards, which are smaller SD cards. Smaller devices like mobile phones can only use small SD cards. These smaller card reader slots are not common in all models. These are also known as a MicroSD card slot, and microSDHC-reader.
Charging Port
Since laptops have limited battery capacity, they require regular charging. That's why every laptop comes with a charging port. And depending on the type of model, it can be rectangular or circular.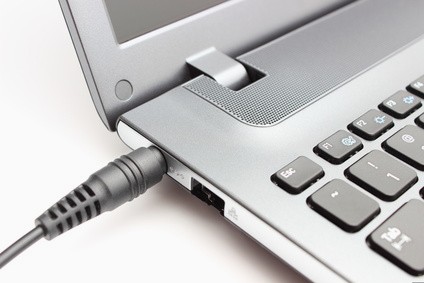 Due to the rising popularity and power handling capacity of USB C, some new model comes with Type C charging ports.