Hey guys welcome back to the another review tutorial and I have got something cool for you today. I have been playing with this toolkit for about a week now and I must say I am impressed. So now lets get on with the unboxing of "Evive – Best Arduino prototype tool kit for beginners".
The kit is called EVIVE starter kit which is app enabled, supports graphical programming, Iot ENABLED and most important of all is Compatible with arduino. EVIVE is the product of STEMPEDIA.
**Watch this video for detailed Review:
[arve url="https://www.youtube.com/watch?v=IUqndf2LidI&t=249s" maxwidth="555″ aspect_ratio="4:3″ /]
On opening the box, first thing you get is this welcome page having an enrollment key which you have to enter on their website to unlock a heck lot of tutorials and stuff.
Next we have a 88 page guide to this kit called Young maker's guide. There are total 14 tutorials for you to go through in this book .
Evive Pinout diagram about which I will talk later.
ELECTRONICS COMPONENTS IN EVIVE STARTER KIT
The kit consists of electrical as well as some mechanical components including evive the electronic prototyping tool which is arduino based. So Now lets take a look at all the electronic components you get with this kit:
1. Joystick
2. Bluetooth Module
3. HCSR04 Ultrasonic sensor
4. IR Sensor X 2
5. LED Strip
6. LDR
7. Servo Motors X 2
8. DC Geared Motors X 2
9. Pushbuttons 
10. Alligator Clips
11. Capacitors
12. LEDs
13. Resistors
14. 3.7V Lithium Ion Battery
15. USB Cable for Arduino
16. Jumper Wires
17. Connectors X 2
MECHANICAL COMPONENTS IN EVIVE STARTER KIT
And All the Mechanical Components you receive with this kit are shown below: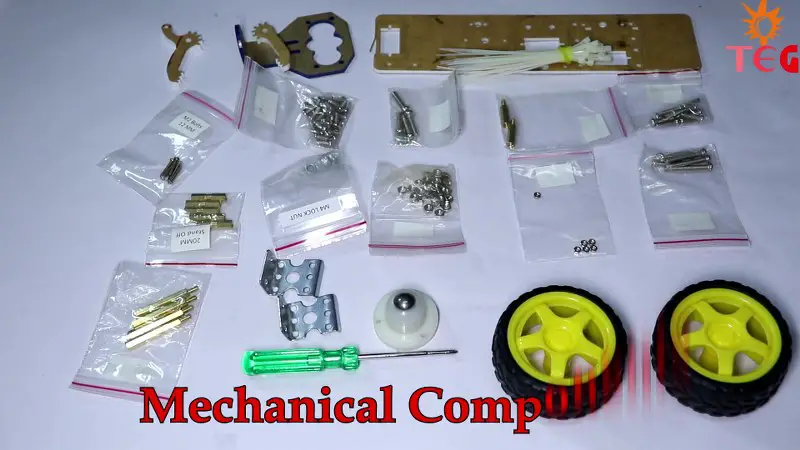 Evive – Best Arduino prototype tool kit for Beginners:
Lets talk about evive now.
To understand what is evive in one go look at this vid:
And that's it. Its like you have assembled all the major components in one box which you can use to make any electronic project without worrying about connections and all that stuff. So my point of view is that with evive you can just focus on logic and creativity.
With Arduino Mega at its heart, Evive is compatible with Softwares like Matlab, Labview, Scratch and many more. And since evive is arduino based it is a great prototyping tool for beginners.
To power evive, you can either use its 3.7v Li-ion battery giving it portability or connect a 12 v adapter to it.
So to connect battery for the first time you have to open the back cover of evive. Connect +VE AND -ve terminal of the battery as shown. Place it over double tape. Then close the lid and thats it.
After switching on the device, display of EVIVE comes to life. You have whole lot of functions here like minioscilloscope, serial monitor, beta function generator etc.
Lets see each one of them one by one:
1.  Control
So under control section you have the option to control dc, servo and stepper motor.You can control upto 2 motors. Lets try to control a dc motor. At the bottom of the evive you can find dc motor o/p pins, Servo motor o/p pins and Motor driver o/p pins.
After connecting a dc motor to M1 port select Motor 1 from the option and now you can control speed using this pot. and direction of the motor using the switch.
2. Sensing
Under sensing menu there are two channels. Using channel 1, you can measure the dc voltage upto 30 v and using channel 2 current upto 5A or voltage upto 5 volts .
Channel 1 is probE v and channel 2 is probe I/V which you can find at the bottom right corner of the device.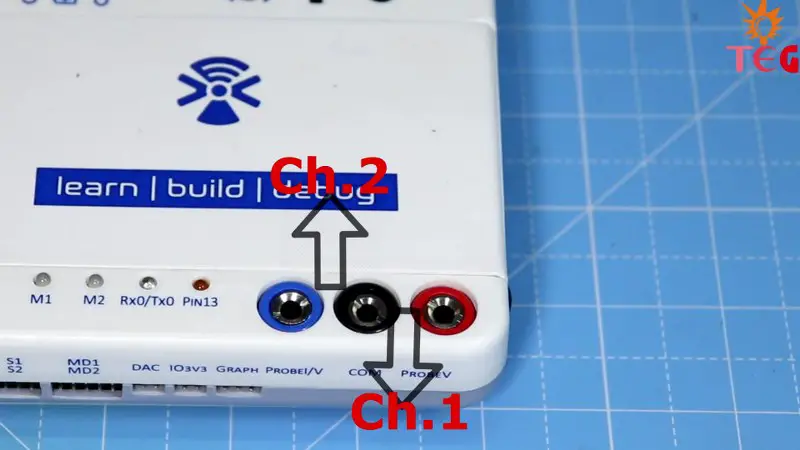 To measure higher voltages upto 30Volts, connect the terminals to channel 1 or  between probe V and COM.
3. Evive's Oscilloscope
In a similar fashion you can use the mini oscilloscope to plot the voltage/current or any other waveform graph. You have the options to change v/division and time/division.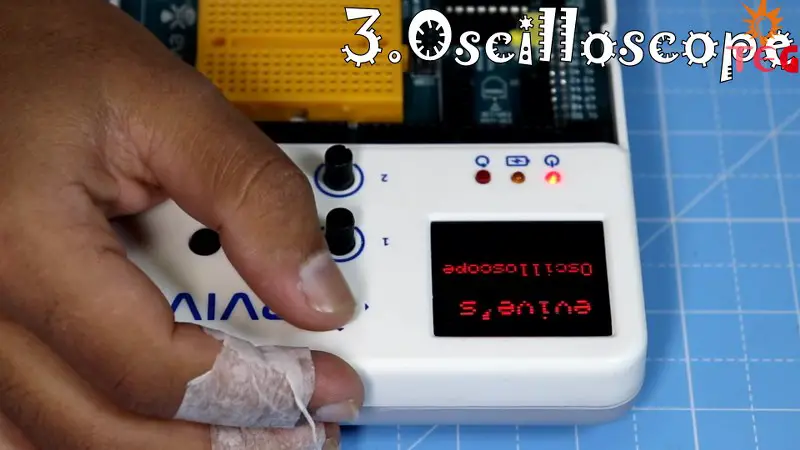 Here I am using a separate arduino to generate PWM signal and evive to plot the corresponding PWM wave graph by connecting the pwm pin to Probe I/V and Gnd pin to COM.
4. Serial Communication
Evive has the ability to establish the serial communication with upto 3 devices with different Baud rate as it has three serial ports available.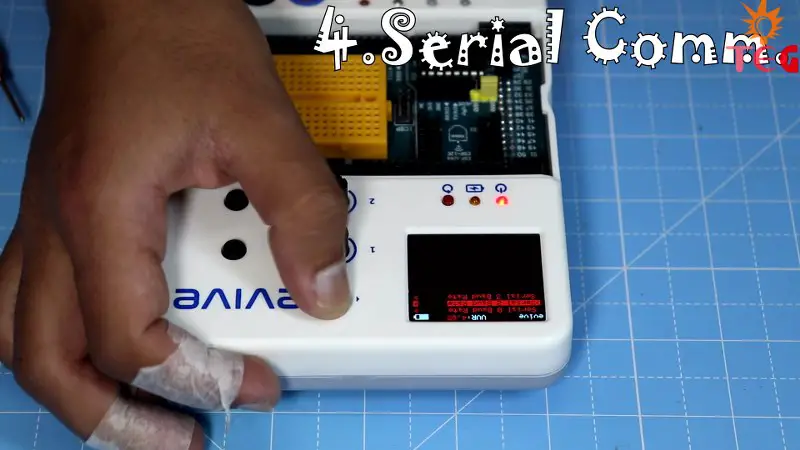 5. Digital/Analog Pin states
Now One of the cool functions which you will definately love is that you can monitor the state of each of the pins of arduino mega installed on evive. In figure given below, you can not only see the state of all 43 digital pins as well as all 15 analog pins.
6. Beta Function Generator
Using Beta function generator you can generate sine, square, triangular and sawtooth waves with different frequency and amplitude.
7. Touch Inputs
Evive has 12 touch inputs which can be used to get touch sensitive surfaces.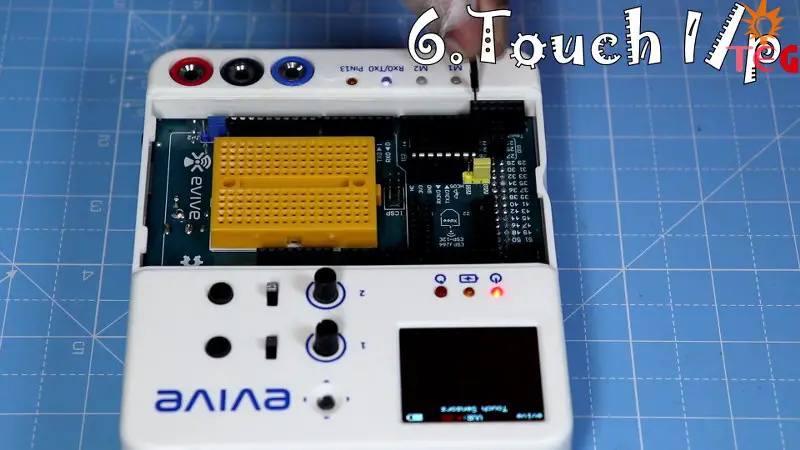 8. User Defined Functions
Under user defined functions you can store your own arduino programs and can swith to a different program by selecting it.
So this was the Unboxing and Review of "Evive – Best Arduino prototype tool kit for beginners".