The lightning cable comes with an 8-pin symmetrical connector. Thus, it can be inserted into a Lightning port from either side regardless of positive and negative orientation. The pinout diagram of a lightning connector is given below.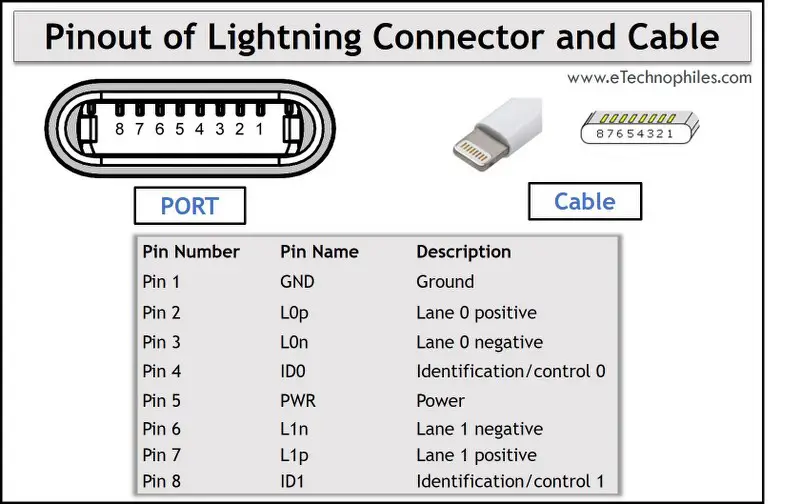 The pin description is as follows.
| | | |
| --- | --- | --- |
| Pin Number | Pin Name | Description |
| Pin 1 | GND | Ground |
| Pin 2 | L0p | Lane 0 positive |
| Pin 3 | L0n | Lane 0 negative |
| Pin 4 | ID0 | Identification/control 0 |
| Pin 5 | PWR | Power |
| Pin 6 | L1n | Lane 1 negative |
| Pin 7 | L1p | Lane 1 positive |
| Pin 8 | ID1 | Identification/control 1 |
Pinout of Lightning Cable
Note: The lightning port is the device to which the connector end of Lightning cable is inserted. Hence pinout is same for both devices. But their orientation should be carefully observed according to the pinout diagram.
Lightning Port Pinout Image
Given below is the pin diagram of the Lightning port present on apple devices.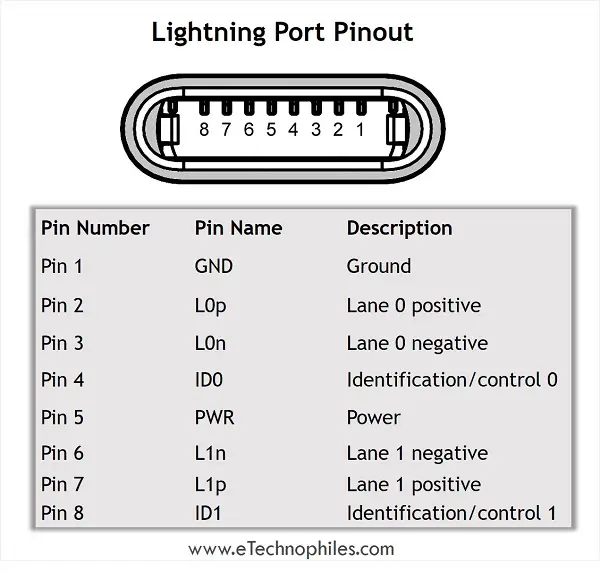 Lightning Cabe Pinout Image
Given below is the pin diagram of the connector of a Lightning cable.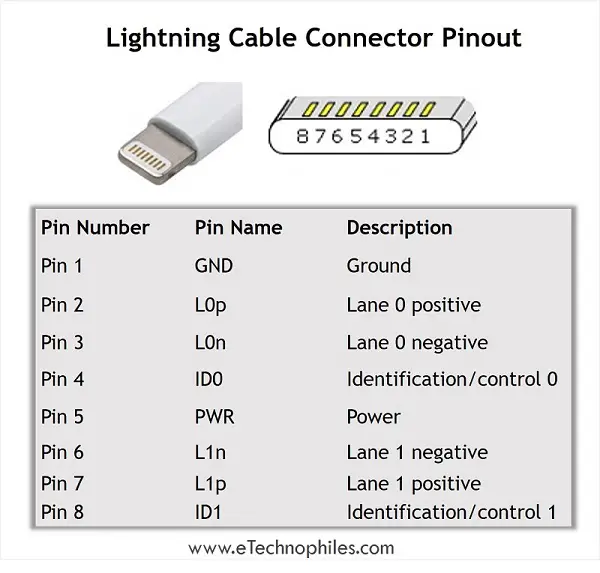 Looking for USB-C to Lightning cables? 10 Best USB C to Lightning Cables You Can Buy in 2023
What are the pins on a Lightning cable?
There are a total of 8 pins on the Lightning cable. One power and one Ground pin, Lane 0, Lane 1 positive and Lane 0, Lane 1 negative pins, and Identification/Control 0 and 1 pins. (Read More)
How many pins are in a Lightning cable?
A Lightning cable has 8 pins. Due to its reversible nature, a Lightning cable can be inserted into a Lightning port in either direction.
Which pins are power on Lightning Cable?
Pin 5 in a lightning cable is used to provide power, whereas pin 1 is the ground pin.
Why does pin 4 or 5 turn black in a Lightning Cable?
Depending on the direction you are holding the cable, pin 4 or 5 of the cable is a power supply pin. When you connect the cable to the lightning port, sometimes there lies a tiny gap between the cable and the port. As there is no direct contact between them, the electric current flows from the cable to the port in the form of a spark. This spark damages the copper layer in the cable, thereby turning it black.
What is 8 pin Lightning Connector?
An 8-pin lightning connector is used to connect Apple devices like iPhones, iPad, and iPods to computers, laptops, USB battery chargers, or other peripherals via a Lightning cable.