PCB design software allows students and engineers to design PCBs or Printed circuit boards. There are several interesting programs available for free, like Circuit Maker, and paid ones like Altium. As a result, if you're looking for the best PCB design software to help you execute your electronic project, there are lots of options available. What matters is the type of project you want to develop and the features a particular program provides.
Of course, different PCB software has specific Pros and Cons, which include free trials and price differences, something you have to consider while buying. Some other things you might want to take into account when making a purchase are: simplicity and versatility. But before we get into our list of 11 best options (some free, some paid), let's take a closer look at what separates the best from the rest.
List of 11 Best PCB Design Software:
Altium Designer
Circuit Maker
Eagle
PCBWeb Designer
DipTrace
Solidworks PCB
KiCAD
EasyEDA
ExpressPCB
DesignSpark PCB
Fritzing
Which is the Overall best PCB design software?
Numerous software packages can help students and electronic engineers design printed circuit boards; in fact, there are too many. Each may differ from the other and may aim to complete specific electronic projects. However, there is one PCB design software that is overall the best PCB design software, Altium Designer. Although it is a paid PCB design software, its budget is behind its flexibility and purpose to fit into different electronic project designing.
Altium has what you need to create high-quality printed circuit boards and automated electronic circuit design. In detail, here is why Altium is the best overall PCB design software in the market:
It's collaborative with anyone
It is a Cloud-based system
It features a Native 3D PCB design
Multi-board assembly
Best board layout
Includes mixed simulation
It contains the best schematic capture
It is good for multi-channel and hierarchical design
Collaborates perfectly with ECAD/MCAD
Undoubted Rigid-Flex
Which is the best free PCB design software?
Of all free PCB design software out there in the market, Eagle is the most preferable one. It is designed by Autodesk and includes a free version and a Fusion 360 software subscription. Its scriptable electronic designing features enable wide application with computer-aided manufacturing, auto-router, printed circuit board layout, and schematic capture features.
Its name, Easily Applicable Graphical Layout Editor, means it has great electrical schematic software to apply in different PCB design projects that need the incorporation of automation schematic capture systems.
Which is the easiest PCB design software best for beginners?
For beginners, the best and easiest PCB design software to use is Fritzing. It's an open-source tool that's perfect for small projects. Fritzing is also great for prototyping and teaching electronics.
Fritzing is easy to use because it comes with a user-friendly interface. In detail, here are the features that make Fritzing the easiest PCB design software for beginners:
It has a simple interface
You can easily create part libraries
It supports team collaboration
It offers unlimited board area and pin count
Here are the 11 best PCB design software platforms, both free and paid. Pick your favorite from the list below.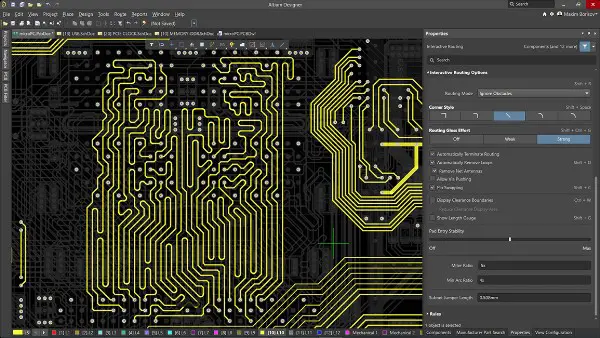 Altium designer outperforms other software tools in terms of system design for a variety of reasons. This comprehensive tool contains features that can help you create, simulate and develop quality electronic products. Simply said, Altium combines all design tools into a single location, making it simple and time-saving for engineers.
Engineers can utilize it to create and document every aspect of their design from electrical schematics to CAD data.
Altium has both a free trial and a paid option:
The pricing of Altium Designer includes two editions: Term-based (Subscription) priced at $358/month and Perpetual-based (Lifetime) priced at $11,870.
Pros
User-friendly platform
It grants easy access to users
It features an Easy conversion of files from other platforms
It is Highly efficient
It features a high-quality PCB Design
No need to add a storage system for every element; the available central point can store data of every element.
Fast result
Compact Design
Quick error checking mechanism
Cons
It supports Windows only
The costs are high for common users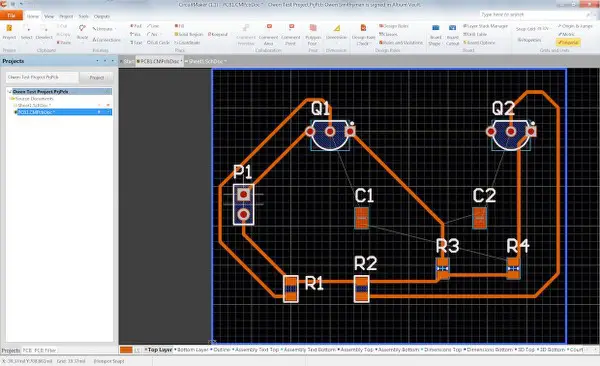 CircuitMaker is another widely used PCB design software, mainly for small-scale PCB projects. The best thing about CircuitMaker is that it is free to use and can be used for non-commercial and commercial projects without any issue.. It also has a huge library of parts and components that you can use in your design.
Pros
It is an Effective PCB designer tool
It gives Unlimited access and free PCB design tool to do PCB layout
Easy to learn how to use
Best for electronic circuits simulation
Push-and-shove routing
It has a Comprehensive Component library
Cons
The component library needs to be updated
See also: 11 Free Online Circuit Simulators- 2022(Tried and Tested)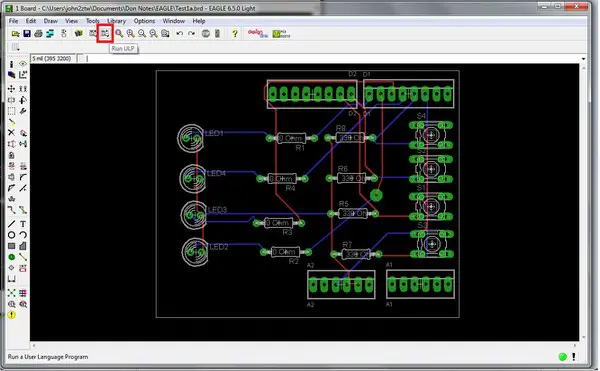 Eagle is a PCB design software that is mainly used by professionals for creating electronic designs and schematics. It offers many features that make it easy to design complex circuits.
The best thing about Eagle is that it has a free version that you can use for small projects.
With a monthly free trial, you can still use this software on a Fusion 360 subscription basis, including a standard subscription of $15 per month and $100 annually.
For a Premium subscription, the pricing is $70 monthly and $545 yearly.
This software is a broad PCB design program that makes it easy for users to test circuit procedures and check outputs using SPICE simulation.
Pros
It features Manageable online libraries
Includes 3D templates of a printed circuit board
It is a real-time synchronization PCB design
Cons
The free version has many limitations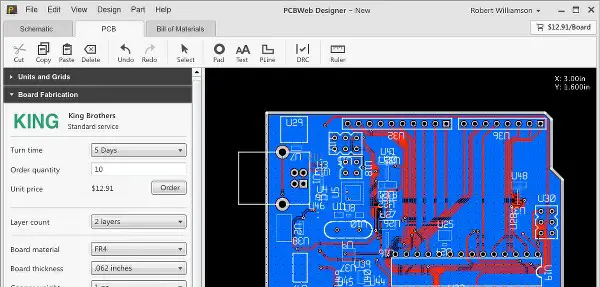 PCBWeb Designer is a multi-page design offering a free computer-aided design program best for electronic development and manufacturing. This software provides comprehensive support for multilayer PCBs, including a broad range of detailing options and an interactive board layout.
You can use PCBWeb to design 2 to 8 layer boards with up to 1000 pins. The best thing about PCBWeb is that it is very easy to use and you don't need to download or install anything. Additionally, users can take advantage of copper filling features and DRC checks.
Pros
It comes with Auto Saving features
Easy generation of multi-sheet schemes
Details catalog arrow
It features an easy and simple wiring tool
Cons
No files imported from other CAD tools
It only works with windows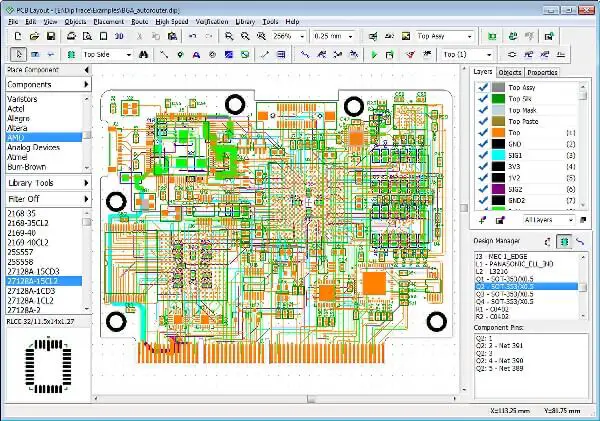 DipTrace PCB design software tool is highly interactive and great for electronic engineers who want to get their work done quickly and efficiently. DipTrace is the best tool for engineers who desire direct circuit-to-board conversion, back-annotation, real-time DRC, and 3D preview since it has only one setting.
DipTrace comes with the following pricing:
| | |
| --- | --- |
| Subscription Plan | Pricing |
| Diptrace Starter | $75 |
| DipTrace Lite | $145 |
| DipTrace Standard | $395 |
| DipTrace Extended | $695 |
| DipTrace Full | $995 |
Diptrace Pricing
Pros
It features an easy positioning of components manually through dragging and dropping depending on the custom layout.
3D preview available
Real-time DRC
Lifetime subscription plan at better pricing
Cons
The starter and lite version is limited to two signal layers, 300 pins, and two signal layers, 500 pins respectively.
Solidworks, an on-demand bi-directional SOLIDWORKS CAD integration, is a powerful software for designing high-quality electronic projects. This software provides the right solution for PCB designing projects through seamless CAD and PCB design collaboration.
The interface is well-designed and easy to navigate, and the tutorials are very helpful in getting started with the program. It has a wide range of features and options, yet is still relatively simple to use.
The pricing of this program is also reasonable; the Lifetime subscription cost is $4195. In addition, you will have to make an annual payment of $1000 for upgrades and technical support.
Pros
The workflow is high due to full PCB design efficiency
Enhanced user experience due to interlinking of SOLIDWORKS CAD
Cons
Difficult to learn at first
Annual maintenance charges are high
Programs can be quite resource-intensive, so they may not run well on older computers.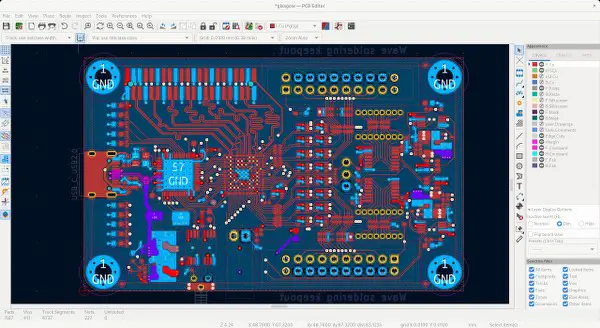 KiCAD is a free, open-source software package for electronic design automation (EDA). KiCAD has a number of features that make it a great choice for PCB design, including a schematic editor, a PCB layout editor, and support for multiple languages. It is available for Windows, Linux and OS X. KiCAD also has a wide range of libraries available, making it easy to find the right components for your project.
Pros
Exports the netlists in different formats
Automatic electrical controls option check
Cons
Low-level library organization
Can be confusing for beginners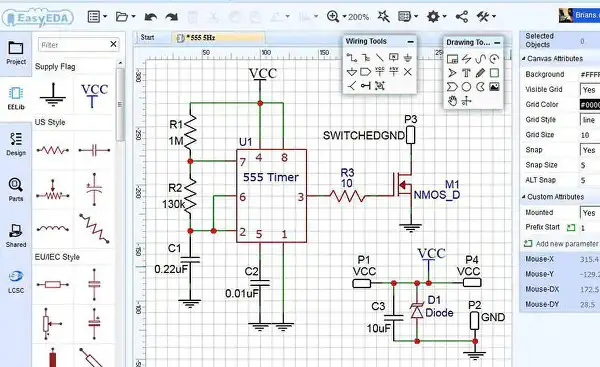 EASYEDA is a powerful, free, and user-friendly PCB design tool that offers users a wide range of features and options. One of the great things about EASYEDA is that it's very easy to use, even for those with no prior experience in PCB design. The interface is clean and intuitive, and the software walks you through every step of the design process.
In addition, EASYEDA comes with an extensive library of components, which makes it easy to find the parts you need for your project.
Pros
Popular among creators and hobbyists
More than 1 million free libraries
Easy management of a project
LCSC component catalog
Cons
Not ideal for high-speed designs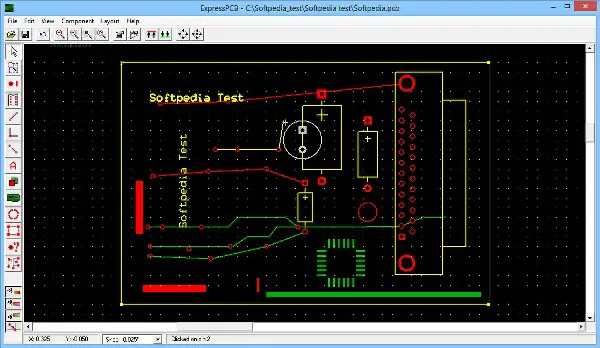 ExpressPCB is another free PCB designing tool. It offers two variants: ExpressPCB Plus and Express PCB Classic. The classic version is their original software and still free since 1998! Schematic Link allows you to quickly and simply link your design, saving both time and money. To get your design out of the door and into production, there's minimal in the way of setup!
The Plus edition adds a more complex toolset, with additional manufacturing choices, to the existing software. To reduce your time from concept to design, they have partnered with SnapEDA to provide integrated access to a large online component part library with verified symbols and footprints.
Pros
Free
Supports multilayer PCBs
Fast technical support
Has a Training blog with in-depth video tutorials
Cons
See also: 10 Best Circuit Simulation Software- 2022(Free and Paid)
DesignSpark PCB by RS Components is based on a powerful software engine that helps quickly capture circuits and design circuit boards. It offers a wide range of features and is suitable for both beginner and experienced users. The software has an intuitive user interface and can be used to create both simple and complex designs.
It also includes a library of ready-made components, which can be easily placed on the board. In addition, Designspark offers a range of advanced features, such as support for 3D printing and automatic routing.
Pros
Free to use
Output different Spice netlist formats 
Growing library
It is easy to master
3D Viewing Capability
Video tutorials available
Cons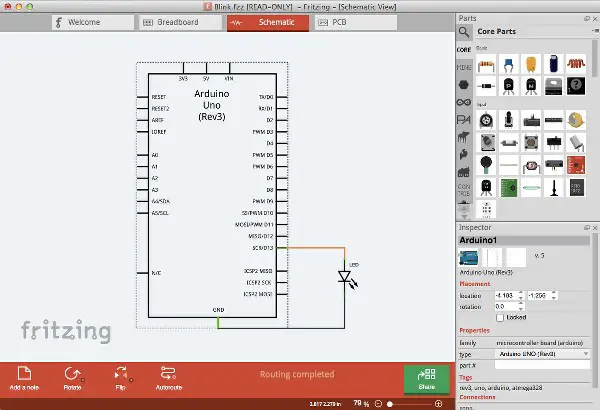 Fritzing is a great way to get started with electronics. It's simple to use, and it's easy to find the parts you need. The best part is that you can use Fritzing to create professional-looking PCBs. The software was free once(now they charge $10), and the community is very active. Therefore, users find it easy to document their prototypes, share, design, teach electronics in class, and create professional circuit boards.
There are also a lot of tutorials and example projects available. One of the main strengths of Fritzing is its ease of use – it is designed to be user-friendly, even for those with no prior experience in PCB design.
Fritzing is priced at $10 per month
Pros
It has an easy-to-use interface
Easy documenting
Easy to use
Big community
Cons
The software has limited features