CR1620 is a type of lightweight primary lithium coin battery that has a nominal voltage of 3V, a typical capacity of 80 mAh, weighs 1.3 g, and is 16 mm in diameter and 2.0 mm in height. It has a shelf life of 5-10 years when stored at room temperature.
CR1620 is found in products such as car keys, remote controls, micro flashlights, digital watches, credit card-sized devices, etc, and does not contain mercury, cadmium, lead, or any other harmful heavy metals or pollutants.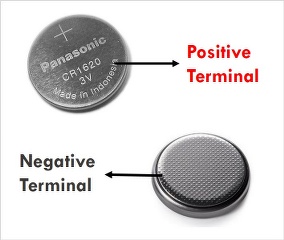 Must read: Important Battery Terms & Characteristics Explained (with Examples)
CR1620 Stands for?
CR1620 stands for a lithium manganese dioxide battery (round shape) having a 16 mm diameter and 2 mm thickness.
The letter C indicates the chemical composition used in the battery (here ie, Lithium Manganese Dioxide)
The letter R indicates the shape of the battery (here ie, Round)
The first two digits indicate the battery's diameter in millimeters (here ie. 16mm)
The second two digits indicate the battery's thickness (here ie. 20mm)
CR1620 Battery Equivalent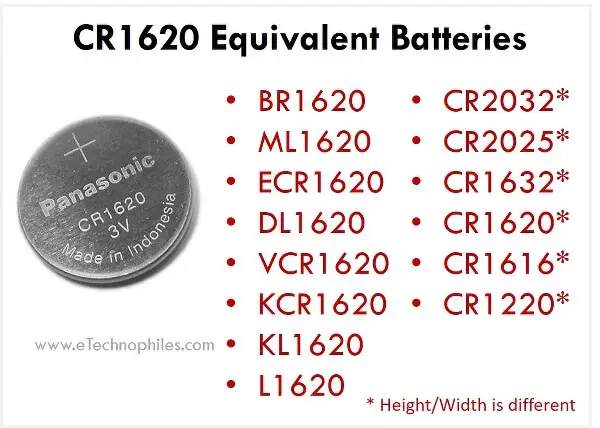 Given below are some batteries that can be replaced with CR1620.
BR1620
ML1620
ECR1620
DL1620
VCR1620
KCR1620
KECR1620
KL1620
L1620
Here, it is evident that only the alphabets are different. The last four numerals are the same. Hence all these equivalents are replaceable with CR1632 but they differ in performance.
Note: The other chemistries may not offer the same features as the lithium-manganese dioxide chemistry. So it is necessary to verify the power requirements of the device before using an equivalent in the place of CR1632.
CR1620 battery specifications
The table lists the essential features of a CR1620 battery
The nominal voltage of the CR1620 battery is 3 V. It weighs 1.3 g and is 16 mm in diameter and 20 mm in height.
| Feature | Value |
| --- | --- |
| Shape | Compact and Round |
| Chemistry | Lithium manganese dioxide |
| Nominal Voltage | 3 V |
| Diameter | 16 mm |
| Thickness | 2.0 mm |
| Capacity | 70-80 mAh |
| Weight | 1.3 g |
| Operating Temperature | -30 – +70 °C |
| Shelf Life | 5-10 years |
CR1620 Specs table
CR1620 Applications
Given below are some of the applications of the CR1620 battery.
Camera
Electric thermometer
Electronic watches/clocks
Automotive
Door sill strip
Electric thermometer
Glucometer
Toys
Calculator
Communication equipments
Read also: 9 Types of Battery Sizes & Where are they Used?(AA,CR2032)
FAQs
Can CR1620 be replaced with CR1632?
The batteries are of different heights. CR1632 is 3.2 mm thick while CR1620 is 2.0 mm thick. Though they have the same output voltage, some mechanical adjustments are required in order to use them interchangeably.
Are CR1620 batteries are dangerous?
No, CR1620 batteries don't contain mercury, cadmium, lead, or any other toxic heavy metals and similar pollutants, but dangerous when swallowed – they can cause chemical burns and physical damage to internal organs.
What are the benefits of CR1620 batteries?
Lightweight, High Voltage, and High Energy Density
Very low self-discharge rate, hence long shelf life up to 10 years
Excellent Leakage Resistance
Excellent Long-Term Reliability
High safety