LR41 battery is a popular type of alkaline button cell battery. It is a non-rechargeable battery that is designed to be remarkably similar to silver oxide coin-based batteries. It gives 1.5 V output, has a typical capacity of up to 35 mAh capacity, and is 7.9 mm in diameter and 3.6 mm in height. 
Since LR41 batteries contain zero percentage mercury(Hg), it is safer in case of battery leaking and very environmentally friendly. These LR41 batteries are also free from cadmium(Cd) and lead(Pb).
LR41 exact equivalents are(same dimensions and voltage) SR41, L736F G3, LR4192, LR736, A63 , SR41SW, 325 and 384. For more read below.
The standard shelf life of an LR41 battery varies from 2 years to 5 years. It highly depends on its storage temperature.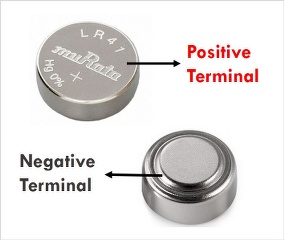 What does LR41 stand for?
According to the battery nomenclature, the first two English alphabets represent battery type and shape respectively. In LR41 batteries "L" represents it is alkaline and "R" represents its round shape.
As for the 41, LR736 is the original name for LR41, where 7 represents its diameter and 3.6 represents its height.
LR41 are alkaline manganese batteries. The manganese oxide is used as cathode material, making it cost-effective. Most renowned manufacturers like Toshiba, Maxell, Murata, and many more manufacture LR41 batteries. The LR41 batteries from Murata have achieved excellent leakage resistance by coupling with a special sealing material.
LR41 Battery Equivalent
The best equivalent of an LR41 battery is a 384/392B-sized watch battery. It is a silver oxide button battery round in shape and of 1.55 volts. All LR41 equivalents are listed below:
AG3 coin cell battery, CX42 cells, LR736, V3GA, V36A, GP192, G3, 92A, 384, 192, 392A, 392, SR41SW, SR41, L736F G3, LR4192, LR736, SR41SW, SR736, SB-A1/D1, 280-18, V384, D384, 247, GP192, GP384, S736E, SR736PW, SR736SW, TR41SW, SR41W and V392.
LR41 Battery Specifications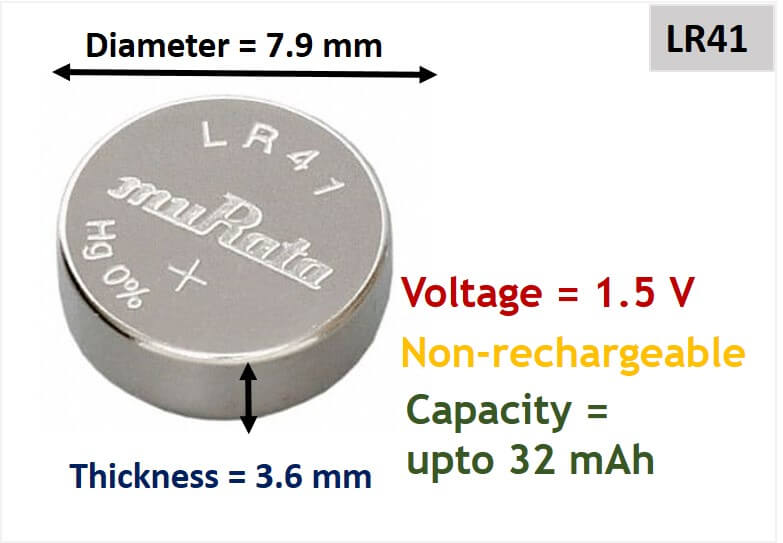 The nominal voltage for the LR41 battery is 1.50 V. The two most important factors to take into account when selecting the best battery for an application are capacity and voltage rating.
This is due to the fact that the battery's voltage rating reveals both the cell's strength and its electrical potential. Given below lists the specifications of the LR41 battery:
Chemistry
Alkaline (similarly sized variants
in silver oxide)
Height
3.6 mm
Diameter
7.9 mm
Operating Temperature
-10°C – 60°C (optimum value 20°C)
Capacity
≈ 25-32mAh
Nominal Voltage
1.50 Volts
Shelf life
up to 5 years
Physical appearance
Coin-like round
LR41 Specs
---
Similar Articles on coin cells/Batteries
---
What is an LR41 Battery used for?
LR41 batteries are used in a variety of applications. Since it is compact sized, it is used in portable electronic devices with low power consumption. The following is a list of some LR41 usage examples.
Battery Pack Application
Memory Backup
Medical Devices and Instruments
Wrist Watches
Security System Panel
Flashlight
Laser Pen
Calculator
Digital Thermometer
Interactive children books
Single function clocks
Cholesterol testers
Heart rate monitors
Voice recorders
Glucometers
FAQs
What is the difference between LR41 and SR41 batteries?
The nominal voltage of LR41 is 1.5 V whereas the nominal voltage of SR41 is 1.55 V. Thus SR41 provides more power to devices than LR41. The SR41 has a current capacity of 45 mAh, whereas the LR41 has 25-32 mAh capacity.
Is LR41 a lithium battery?
The LR41 is not a lithium battery, but an alkaline battery. The LR41 battery is usually confused with a lithium battery due to the letter L. But The nomenclature is based on IEC 60086-3 standard in which the first letter stands for the battery chemistry. Accordingly, L stands for alkaline chemistry.
Are LR41 and 312 batteries interchangeable?
The 312 battery has a slightly lower voltage of 1.40-1.45 volts, but it has a much bigger capacity, usually around 160 mAh.