There is a lot of confusion between many models of coin cell batteries. For example, one of the common queries is CR2032 vs DL2032. Whether they are equivalents, or not? In this article, we are going to solve this one for you. Just keep on reading.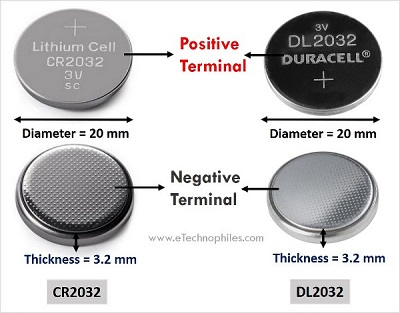 Both CR2032 and DL2032 are non-rechargeable lithium coin cell batteries that offer high power. They are exactly the same in dimension with 20mm diameter and 3.2mm thickness. The nominal voltage is 3V and performs best for 8 to 10 years.
Short answer: Both these coin cells are almost identical. The main difference between them lies in the manufacturing brand. CR2032 is a general designation of all the 2032 batteries manufactured by different brands, whereas DL2032 is only manufactured by Duracell.
CR2032 vs DL2032 – More differences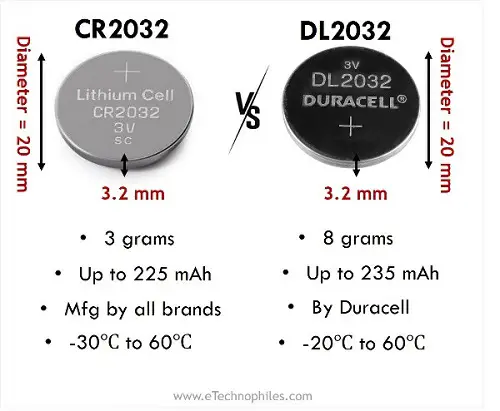 Apart from the manufacturing brand, the CR2032 and DL2032 batteries slightly differ in capacity, weight and operating temperature. DL2032 offers 235mAh capacity while that of CR2032 is 225mAh. Also, the DL2032 batteries weigh 5g more than the CR2032. DL2032 also works in a little larger temperature range compared to CR2032. To check the differences easily, we've listed them in a table below.
| | | |
| --- | --- | --- |
| Feature | CR2032 | DL2032 |
| Brand | Generally used by all brands | Duracell |
| Capacity | 225mAh | 235mAh |
| Weight | 3g | 8g |
| Operating Temperature Range | -30℃ to 60℃ | -20℃ to 60℃ |
CR2032 vs DL2032
---
---
What happens if we replace CR2032 and DL2032?
Replacing CR2032 and DL2032 batteries will not create any issues since they both are nearly the same. Though there are some changes, they do not cause any significant impact on battery characteristics. Both batteries provide the same nominal voltage and have almost similar capacities.
CR2032 vs DL2032 – Similar Features & Applications
CR2032 and DL2032 batteries are used in small devices requiring a longer dependable use. The most common applications are watches, computer motherboards, calculators, PDAs, electronic organizers, garage door openers, toys, games, door chimes, pet collars, LED lights, sporting goods, pedometers, calorie counters, stopwatches, and medical devices.
The similar features of CR2032 and DL2032 batteries are consolidated in the table below.
| | |
| --- | --- |
| Feature | Value |
| Thickness | 3.2 mm |
| Shape | Round (Coin shaped) |
| Diameter | 20mm |
| Nominal Voltage | 3V |
| Reusability | Single-Use |
| Continuous drain current | 0.19mA |
| Active life | 8-10 years |
Features of CR2032 and DL2032
Conclusion – CR2032 vs DL2032
Both CR2032 and DL2032 are primary non-rechargeable batteries. Both have the same dimensions and nominal voltage. So they can be used as equivalents for each other. DL2032 gives a slightly higher capacity than CR2032. Though the difference is very little, opting for DL2032 is better for high-current draining applications.
At the same time, it must be noted that DL2032 weighs heavier than CR2032. So, for lightweight and snap-fit designed applications, opting for CR2032 is better. Also, CR2032 has a higher operating temperature range than DL2032.