Ever since I started learning electronics I always wanted to build my own LED Cube. But neither I had the time nor in-depth knowledge of electronics required to build one. Then I recently got a mail from Banggood.com asking me to review any Arduino- Microcontroller-related kit on my channel THE ELECTRONIC GUY. So while going through their products I found this DIY LED CUBE KIT which has an additional Music mode feature.  How to assemble Diy LED Cube!
So here I was, assembling the kit in front of the camera 20 days after placing the order. Overall this was a fun project to do and here is my unbiased review of this DIY kit. Read this article and then decide for yourself whether you should buy one or not!
It took me a lot of time to figure out how to assemble this kit step by step. So in this post, I am also going to give step-by-step instructions on "how on earth this kit is assembled"! 
NOTE: It took me 16 hours to assemble this kit, So you need to have a lot of patience. But overall this is a fun project to do and you can learn a lot while assembling the kit.
Assembling time and final Impression:
** Slideshow
Since I really had no idea then of how the kit is assembled, it took me almost 16 hours(without break) to complete this project. But you can finish this project in just 8 hours if you follow the instructions given below.
The only thing that consumed my time while assembling the kit was soldering joints because there is nothing else to do from beginning to end. If you are a beginner then this kit is best for you to improve your Soldering skills.
As I always wanted to have my own LED Cube, I felt overwhelmed after finishing the project. There are total 42 eye-catching animations that start running as soon as LED Cube is powered, some of which are outstanding.
Note:  I should have ordered this multicolor-Music LED cube version having three different colors(RGB) in one LED as it looks more appealing.
Music Mode:
You can play music using any of these three :
1. SD Card
2. Pendrive
3. Mobile or Laptop using Aux cable
There are total 14 Music mode animations that run once music is played. And Led cube looks more stunning as patterns changes with Beats. If music is paused animation goes to 'hold' state.
Instruction Manual:
Though it's easy to assemble the kit(step by step) the instruction manual provided is in horrible English. And on top of that manual is not organized well. You can't just really read the manual and start building the Cube right away.You will have to watch many videos to get the hang of Instructions like I did. But no worries; if you have decided to buy this kit you can find all Instruction(step by step) in this post.
Unboxing:
As I have already mentioned that I got this product from China warehouse at my doorstep 20 days after placing the order with Banggood.com. Although there was no box the packaging was good having three-layer protection:
** Slideshow
All components were placed properly inside this Air tight thick container: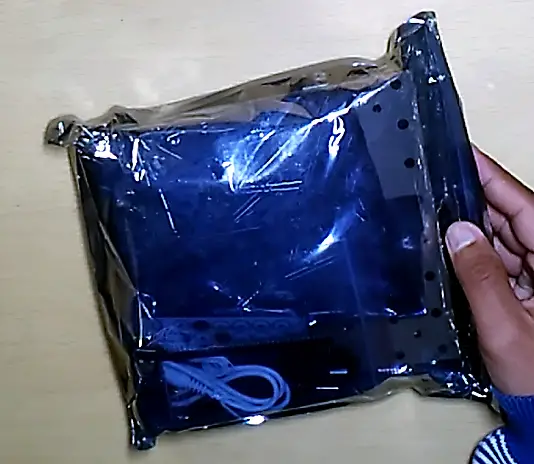 The package contains:
1. LED Packet
2. Acrylic Sheet
3. Main Board
4. Another small pouch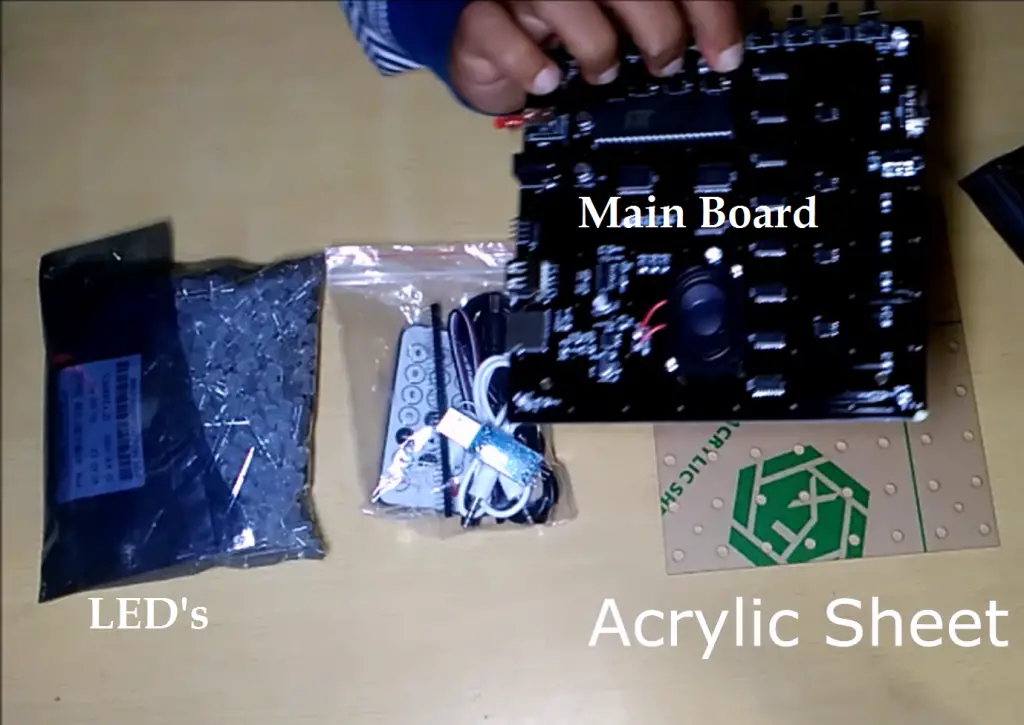 Small Packet contains other necessary components:
1. Power Cable
2. Remote
3. Header Pins
4. Aux-Cable
5. PC-Programmer
6. Jumper-Wires
7. Connecting Wires
8. Nut-Bolt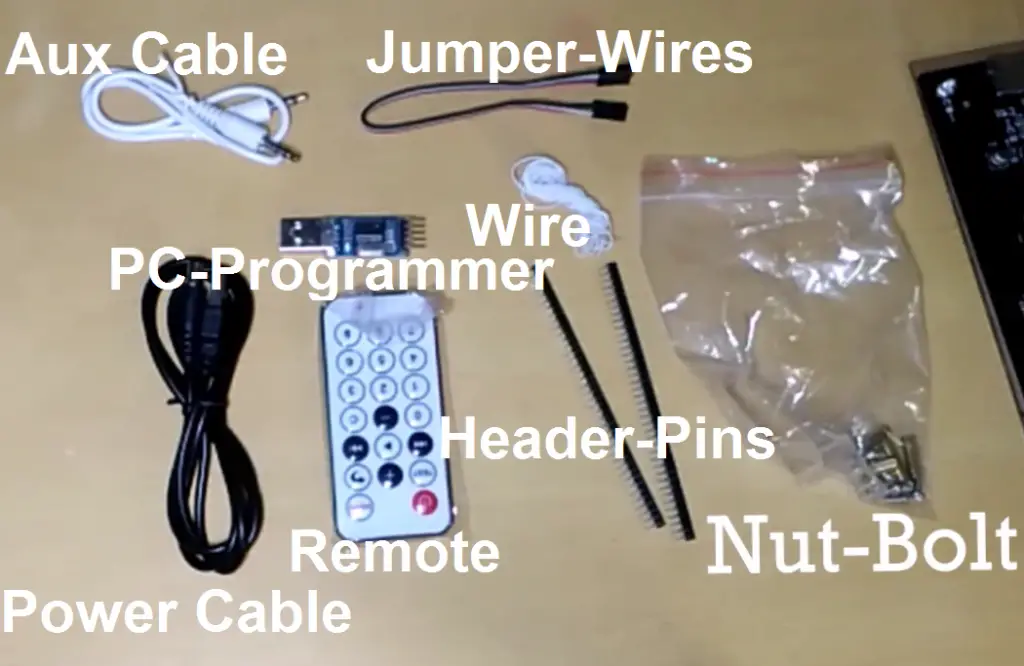 Features of this Diy LED Cube kit(as specified in product's description) :
1. Built-in 3W amplifier + 3W high-quality speaker
2. Can be inserted TF memory card to play music
3. Can be inserted U disk to play music
4. Through the audio line input and output music
5. Built-in MP3 music, the volume can be adjusted
6. Built-in music can be controlled by a button on the next song
7. Built-in 42 kinds of off-line stunning animation (plug in the electricity can run animation)
8. Built-in 14 kinds of offline dynamic audio animation (dance with music)
9. 3D8 on the machine mode (control animation)
10. 3D8 on the machine music mode
11. Infrared remote control function
12. Night, daytime control mode
13. PWM breathing light mode
14. Switch on the mainboard automatic detection mode
15. Photoresistor automatic dimming function (need to expand by yourself)
16. Shell size: 233 * 161 * 161mm
17. PCB board: 150 * 150mm
18. Input voltage: 5V / 5V charger
19. Current: 1A-2A (2A better)
Instructions:
Step 1: Screw the spacers on Acrylic sheet and then use double tape for stability.
 ** Slideshow
Step 2: Bend Anode(longer leg) towards you after placing LEDs on Acrylic sheet.
** Slideshow
Step 3: Solder all anodes together one by one
Step 4: Bend All Cathodes(Shorter leg) to right using Straw
Step 5: Repeat all the above steps for the second column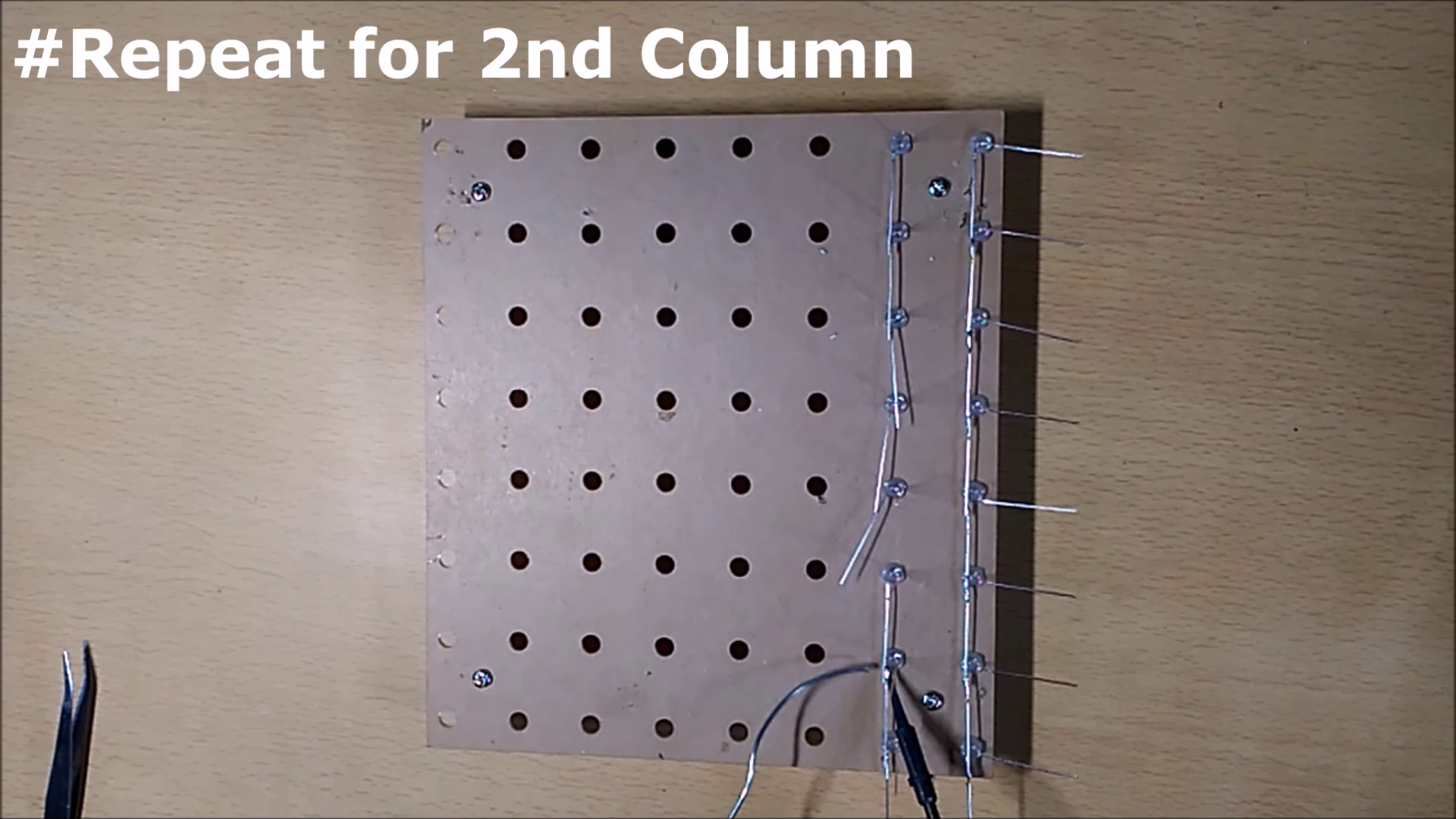 Step 6: Solder Cathode of second-row LEDs with the first row cathodes
Step 7: Repeat above steps for remaining columns
Step 8: Double check each Led using 3volt supply. It is better to check LEDs right now else it would be difficult later.
Step 9: Remember that Cathodes of each grid goes to the main board and not Anodes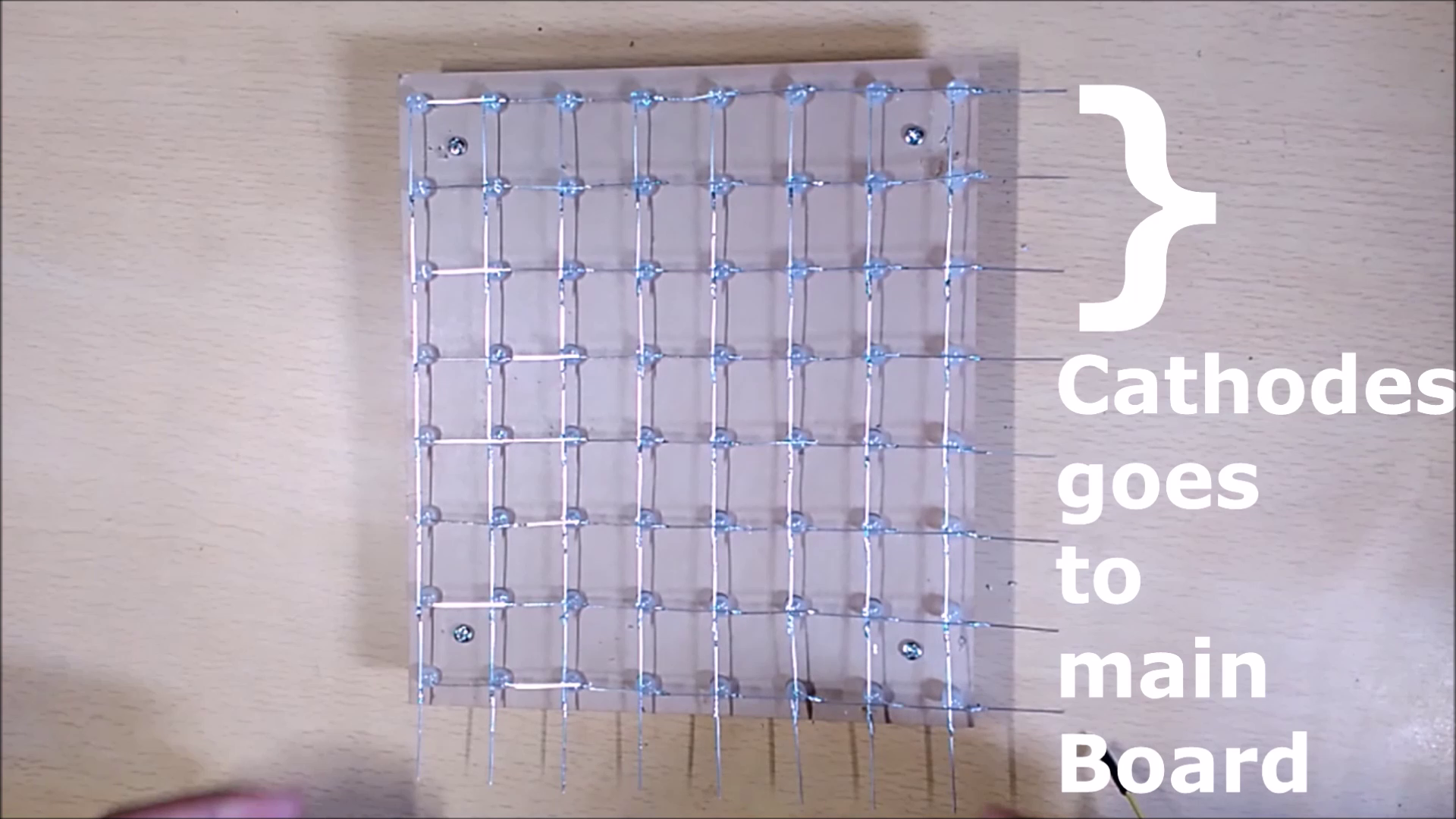 Step 10: Repeat the same process to build 7 more LED Grids
Step 11: Cut out the header pins and solder them on the main board as shown in the slideshow below.
** Slideshow
Step 12: Bend Anodes away from the LED's head as shown in the figure below
Step 13: Place LED Grid on Main Board from Cathode side towards the Keys
Step 14: Solder anodes of each Grid together(Side by Side)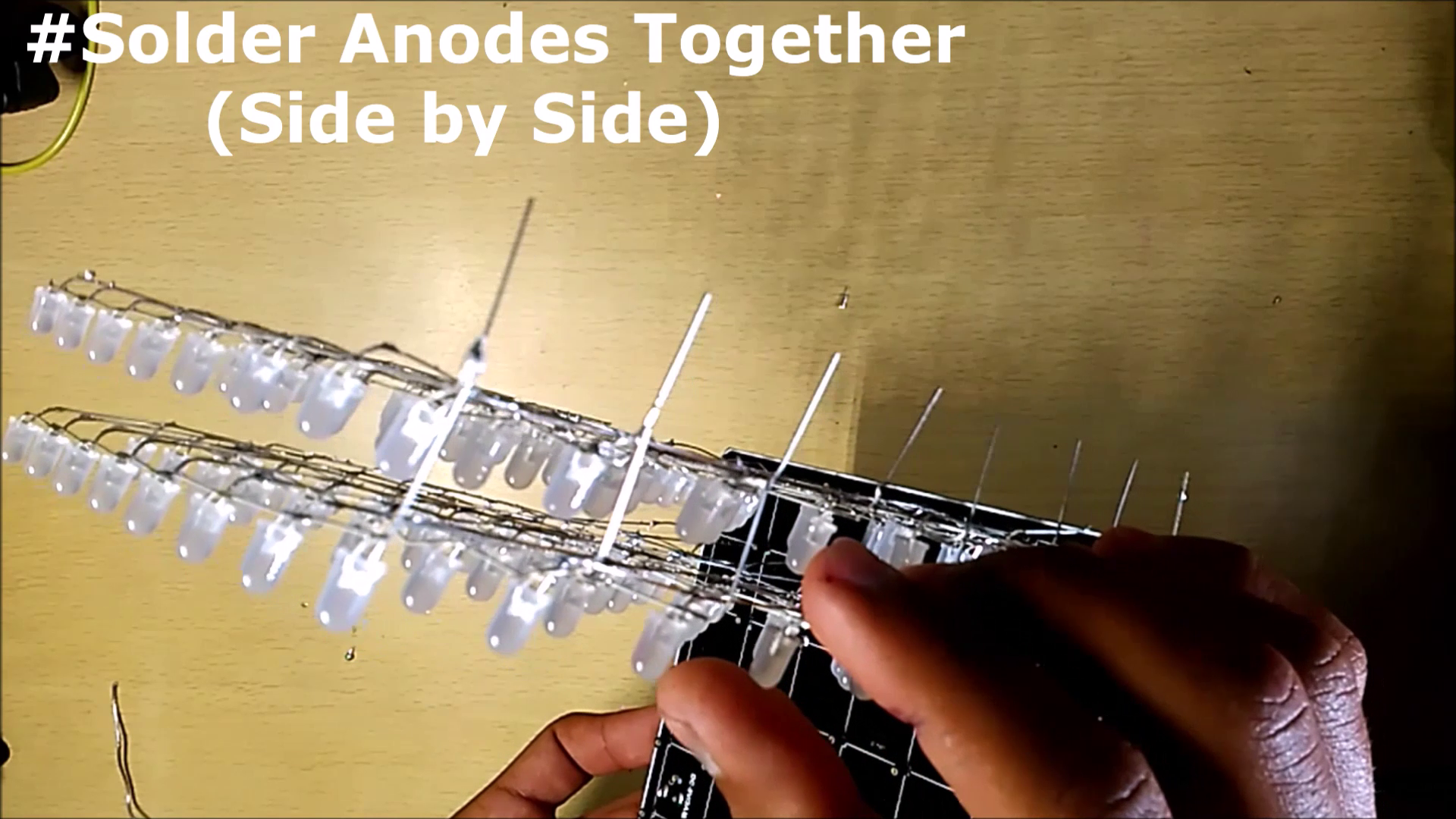 Step 15: Repeat all the above steps for remaining Grids
Step 16:  Cube at this stage
** Slideshow
Now since cathode portion is completely connected to the board, its time to connect Anodes using Connecting wire.
Step 17: Connect first Anode row(bottommost) to the first +ve terminal and then Corresponding Anode row till last row(Topmost) as shown in the slideshow below
** Slideshow
Step 18: Cut out the extra portion that's left as shown below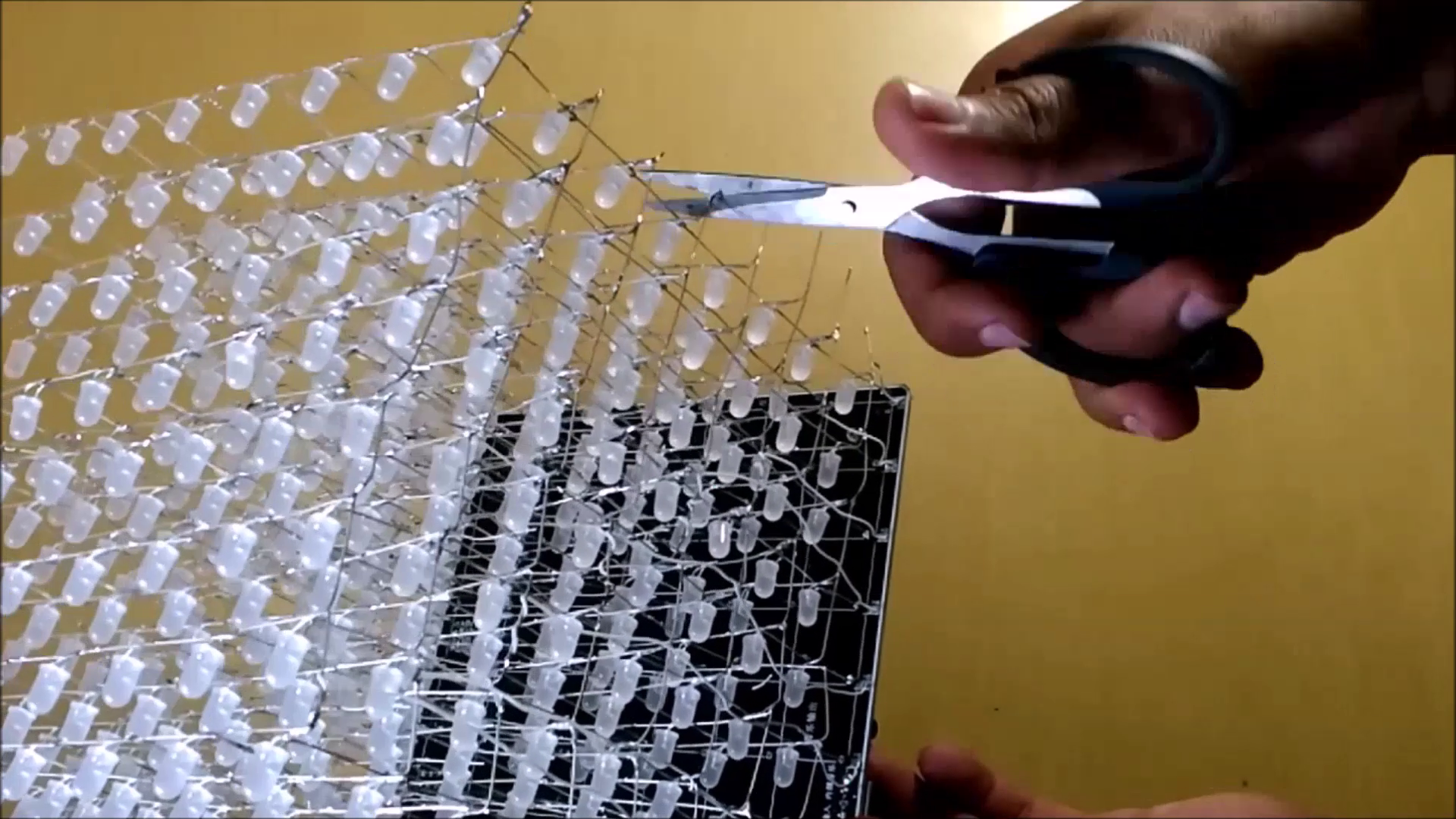 Step 19: To make this structure more stable I soldered each grid end to the closest grid's end using cut-out portion from above
Step 20: Now just connect the board to 5v / 2Amp supply using Power cable and switch on the board