HDMI is a versatile and widely-used type of connection that can be used to transmit audio and video signals between devices. There are several different types of HDMI, each with its own set of benefits and drawbacks.
In this article, we will explore the five main HDMI Types. We will also take a look at the seven standards that have been released so far and compare their bandwidth and resolution.
What are the different types of HDMI? Complete list
HDMI can be classified on the basis of connector type, locking mechanism, and standards/versions. All these are listed below
Types of HDMI connectors based on size:
Type A
Type B
Type C
Type D
Type E
Based on the Male to female locking mechanism
Straight HDMI connector
Right-angled HDMI connector
There are 7 HDMI standards/versions
HDMI 1.0
HDMI 1.1
HDMI 1.2
HDMI 1.3
HDMI 1.4
HDMI 2.0
HDMI 2.1
Let us see them in detail.
Types of HDMI Connector size

The connector types are defined based on their size. Here we will discuss the most significant connector types which are commonly used in HDMI devices.
Type A HDMI Connectors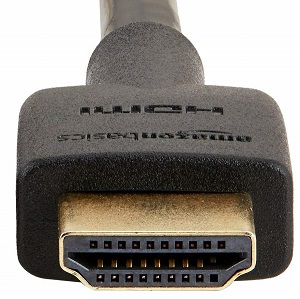 Type A is also known as the 'Standard' HDMI connector. It is a 19-pin connector and has a plug size of dimension 13.9×4.45mm.
Type A is the most commonly used HDMI connector type. Type A socket/port is thus found in the majority of audio-visual equipment like TV, computer monitor, game console, etc.
Read also: All HDMI Connector Pinout Explained(A,B,C,D)
Type B HDMI Connectors
Type B HDMI connector was introduced to support dual-link DVD-I video. This connector was introduced together with Type A. The HDMI Type B didn't serve much purpose after the release of HDMI 1.3-enabled devices.
The dual-link couldn't support the signal speed of the 1.3 HDMI standard used for high-resolution purposes. Hence it didn't gain popularity. 
Also, the connector had 29 pins with a plug size of 21.2 mm × 4.45 mm which is much larger than Type A.
Type C HDMI Connectors
Type C is also known as the 'Mini' HDMI connector. It is a smaller version of Type A. It is a 19-pin connector and has a plug size of dimension 10.42×2.42mm. 
Since it is small and compact in size, Type C HDMI connectors are suitable for small portable devices like tablets, camcorders, and DSLR cameras.
Type D HDMI Connectors
Type D is the smallest version of the HDMI connector which is also known as the 'Micro' HDMI connector. It looks similar to a micro-USB connector. It is a 19-pin connector and has a plug size of dimension 6.4× 2.8 mm. 
Although the pin assignment is different, Type D connectors serve all the functionality of its larger versions. It is utilized in smaller portable devices like smartphones.
Type E HDMI Connectors
Type E connector was introduced with HDMI standard 1.4 and is designed for high-speed automotive applications. These connectors are resistant to vibrations and shocks.
Its advanced design also incorporated a locking tab to withstand vibrations and a metal shell to prevent moisture and dirt inside the connection.
---
Looking for some best HDMI Adapters/Converters?
---
HDMI classification based on Locking Mechanism
The HDMI connectors come in two types based on how the male and female connectors are locked to each other. Or how the connector is inserted into the port.
Straight HDMI Connectors
Straight connectors are the regularly used HDMI connectors that are straight.
Right-angled HDMI Connectors
Right-angled connectors have a sharp 90-degree bend at the connection. This saves space at the connection point.
Different HDMI Standards
The HDMI technology evolved with new standards. Every new standard brings an update to at least one of its features.
The most significant HDMI standards and their corresponding features are listed in the table below:
| Version | Released Year | Bandwidth | Resolution |
| --- | --- | --- | --- |
| HDMI 1.0 | December 2002 | 4.95 Gb/s | 1080p @ 60Hz |
| HDMI 1.1 | May 2004 | 4.95 Gb/s | 1440p @ 30Hz |
| HDMI 1.2 | August 2005 | 4.95 Gb/s | 1440p @ 30Hz |
| HDMI 1.3 | June 2006 | 10.2 Gb/s | 4K @ 60 Hz |
| HDMI 1.4 | June 2009 | 10.2 Gb/s | 4K @ 60 Hz |
| HDMI 2.0 | September 2013 | 18.0 Gb/s | 4K @ 60Hz |
| HDMI 2.1 | January 2017 | 48.0 Gb/s | 8K @ 30Hz |
Different HDMI Standards
Note: Type A and Type B HDMI connectors were introduced in HDMI 1.0 standard. Type C HDMI connector was introduced in HDMI 1.3 standard. Type D and Type E HDMI connectors were introduced in HDMI 1.4 standard.