Potentiometer is a three-leg device with a sliding or rotating contact used to create variable resistance or voltage. The potentiometer symbol comprises a resistor symbol with an arrow in the middle. Whereas its pinout may vary depending on the potentiometer type you have(linear, rotary, or digital).
Potentiometer Symbol
There are two ways to represent a potentiometer using symbols i.e, American Standard and International Standard. Though the International Standard potentiometer symbol is new, the American Standard one is still used in many books.
Potentiometer symbol(American Standard)
The potentiometer symbol in American Standard is denoted by a zigzag line(resistor symbol) with an arrow above it.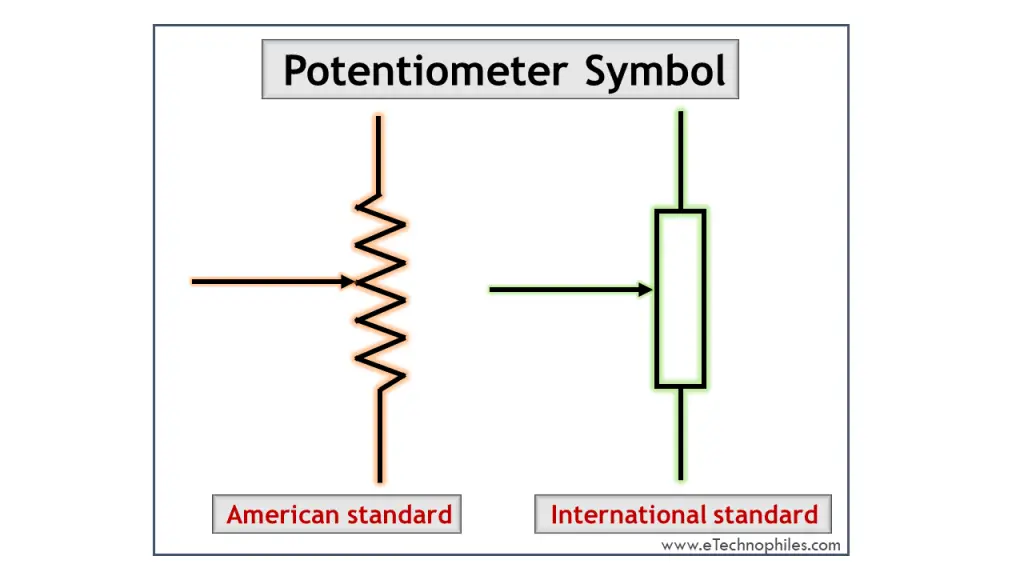 Potentiometer symbol(International Standard)
As per the International standard, the symbol of a potentiometer is a rectangular box with two terminals on either side and an arrow in the middle.
Potentiometer Pinout Diagram
The pinout of the potentiometer varies according to the type of potentiometer like sliding, rotating, or trim.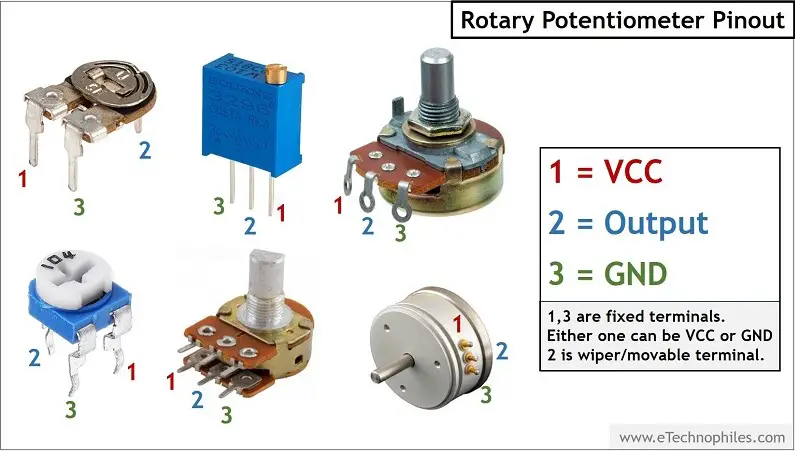 Single-turn potentiometer Pinout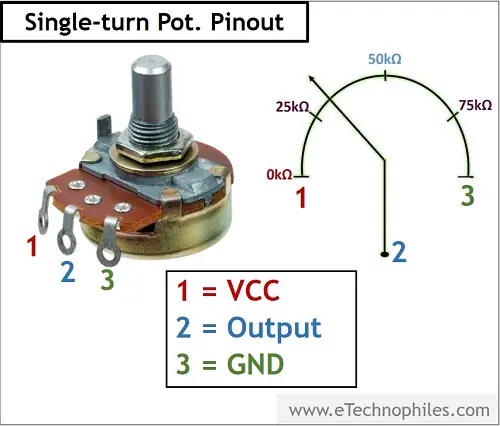 This is one of the most widely used rotary potentiometers. The single-turn pot can be rotated at its knob in a single direction.
Trimpot Pinout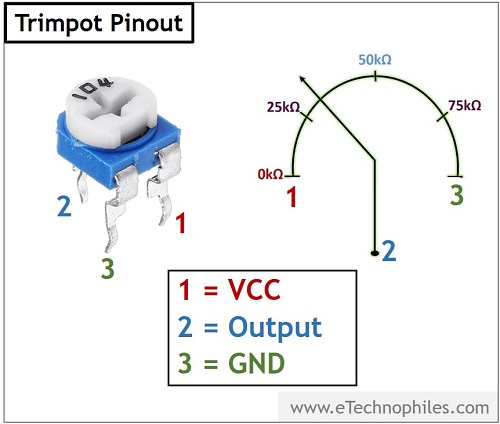 These pots are fixed in the circuit to make adjustments in the supply voltage. The resistive track in these pots is made of cement or carbon composition. The rotary wiper adjustments can be done with a small-bladed screwdriver.
Multi-turn Trimpot Pinout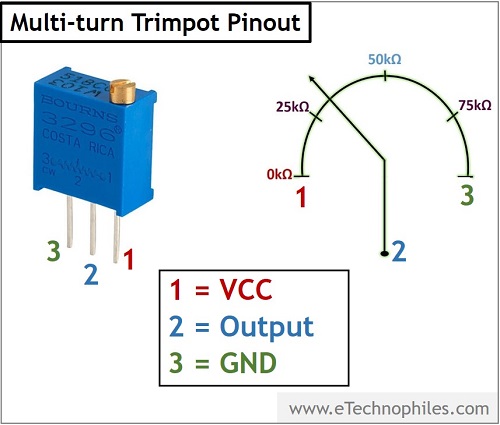 The major difference between a multi-turn pot and a single-turn pot is that multiple rotations are possible in this model. This results in an enhanced precision as compared to the other type
Skeleton Trimpot Pinout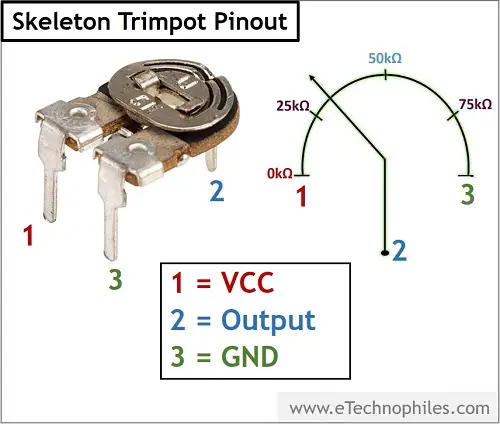 As the name suggests, this type of trimpot does not have any outer casing. The resistance can be varied using a screwdriver.
Dual Gang potentiometer Pinout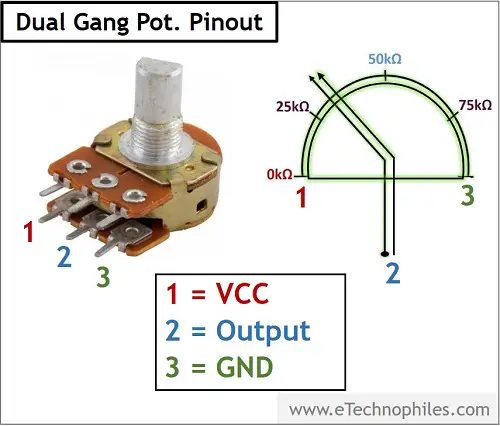 Dual-gang potentiometer consists of two single-turn potentiometers combined on a single shaft. These pots use two parallel channels to achieve dual functionality. 
Servo potentiometer Pinout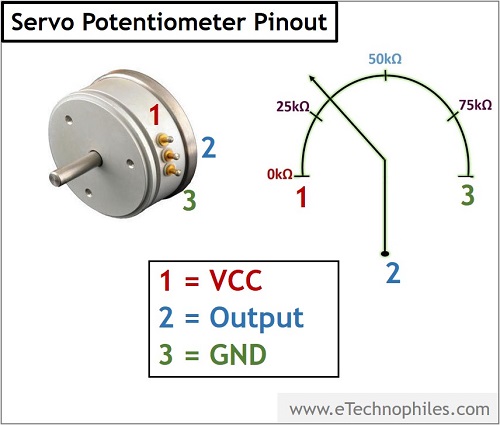 As its name specifies, servo potentiometers are used in servo motors. These pots automatically adjust the supply voltage fed to them. A servo pot is shown in the figure below.
Sliding potentiometer Pinout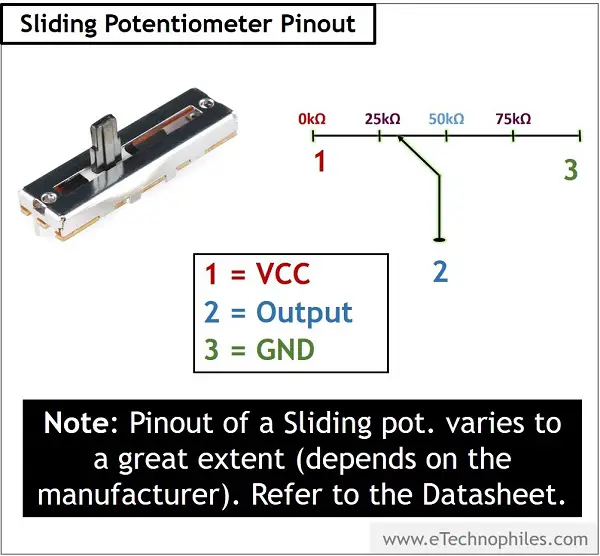 Usually called faders, these potentiometers are a type of linear sliders that are made from conductive plastic.