Universal Serial Bus (USB) is currently a universal standard to create an interface between devices. The USB era started with its first version, USB 1.0 launched in January 1996. It was a success even in the initial stage and gradually underwent huge improvisations.
Now, USBs are available up to the 3.0 version and in several types(USB-A, USB-B, USB-C). Currently, it is almost impossible to find a single device without any type of USB port. In this article, we will discuss the features of the initial versions of USB, USB 1.0, and USB 2.0.
USB 1.0 vs 2.0 – A closer comparison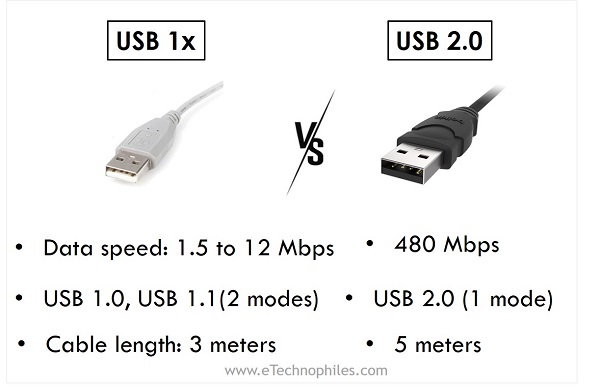 USB 1.0 and USB 2.0 are mostly used with Type A connectors. So many of us get confused about whether the connector is version 1.0 or 2.0. The table below shows the major differences between USB 1x and USB 2.0.
Note: In USB 1x, the x denotes 1.0 and 1.1 modes.
| | | |
| --- | --- | --- |
| Feature | USB 1x | USB 2.0 |
| Launch | January 1996 | April 2000 |
| Data Speed | 1.5 to 12 Mbps | 480 Mbps |
| Modes | USB 1.0, USB 1.1(2 modes) | USB 2.0 (1 mode) |
| Supported Connector Types | Type A, Type B | Type A, Type B, Micro, Mini |
| Cable Length | 3 meters | 5 meters |
USB 1x vs 2.0
Note: USB 1x and USB 2.0 share some similarities too. Both versions are capable only of unidirectional data transmission. They also use the same data encoding method which is known as UNICODE.
Let's look at the USB 1x and 2.0 in detail.
Similar: USB 2.0 vs 3.0 vs 3.1 – Know the Differences
USB 1x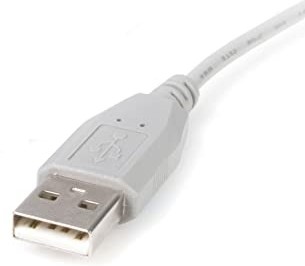 USB 1.0 was the first USB standard. Hence it has fewer features as compared to its higher versions. USB 1.0 incorporates only two types of connectors which are Type A and Type B. Both these connectors are the largest (in size) among the other USB connector types.
The signaling rate of USB1.0 is 1.5 Mbit/s. This was later improved to 12 Mbit/s by the launch of USB 1.1. But all other attributes of USB 1.1 is the same as that of USB 1.0.
Since the data transfer rate is very low, these USBs are usually used to connect low-speed peripheral devices like mouse, keyboards, etc. But it is capable to support up to 127 devices. The maximum cable length supported by USB 1.0 is 3 meters and does not support the use of extension cables due to power limitations.
Read also: 10 USB Pinout Explained- USB A, B, C(Male and Female)
USB 2.0
USB 2.0 is the upgraded version of USB 1x, released in April 2000. The signaling rate was improved to 480 Mbps. This is up to 40 times higher than USB 1.0. Hence they are sometimes known as Highspeed USBs or High Bandwidth USBs.
Other than Type A and Type B, USB 2.0 supports mini and micro connectors. Since they are micro connectors, they can be incorporated into smaller devices. The maximum cable length in USB 2.0 is 5 meters. These modifications are applied to USB 2.0 by Engineering Change Notices (ECNs).
Do USB 1x devices work on USB 2.0?
Yes, it works. But since USB 1x has fewer capabilities compared to USB 2.0, the device cannot achieve all the features of USB 2.0.
---
Looking for best USB adapters/cables?
---
How can we identify whether our Type A connector is version 1.0 or 2.0?
Type A connectors are available in version 1x as well as 2.0. But to obtain all the capabilities of USB 2.0, the version of the device connector should match that of the port. But identifying the version of the Type A connector is very difficult. There are a few methods to identify this.
The easiest method is to check the plastic connector end. Version 1.0 has white color at the end and version 2.0 has black color at the end.
If we check the device manager of the laptop after inserting the USB, we can find the version number.
Once the 2.0 version is inserted into a laptop, the toolbar appears. But it will not happen when we insert a 1x version.
Can we use an extension cable for USB 1x and USB 2.0?
USB 1x version cannot support extension cables due to power limitations. Whereas the USB 2.0 version functions well with extension cables of specified lengths. But we can further extend the cable length using power hubs in between.