Connecting displays using HDMI is preferred over other methods. The various advantages like high resolution, bandwidth, audio, and video transmission through a single channel, etc have boosted its demand. Almost all the devices are currently launched with HDMI ports.
But what if we consider small devices? Small portable devices like smartphones and tablets do not include an HDMI port. Hence streaming these devices to a display is difficult. What are the other options?
Can you use USB-C to HDMI for the monitor? (Short answer)
Yes, we can use USB-C to HDMI for the monitor and connect our laptops to it through a USB-C port. All you need is a USB-C to HDMI converter. The USB-C end of the converter goes to the USB-C port on your laptop and the other end, the HDMI one, is connected to the monitor/display/projector.
But there are certain things that we need to keep in mind while using it to connect a bigger display:
We can either use a USB-C to HDMI cable or USB-C to HDMI adapter.
If we are using a USB-C to HDMI cable, it must be ensured that the USB-C port (smartphone/laptop) must have an Alt mode. Otherwise, it may not work. On the other hand, it is not required in the case of a USB-C to HDMI adapter.
Keep in mind that the signal quality may be different in both cases. A USB-C to HDMI adapter generally gives a better quality signal(4k@60fps) as compared to a USB-C to HDMI cable.
Read the article, for a detailed explanation.
How to use the USB-C port for an HDMI monitor?
HDMI is the most suitable method of connecting displays, and a USB-C port is now present in every device irrespective of size and technology. So it is a wise option to connect USB C devices to HDMI displays using a USB C to HDMI converter. But very few of us are aware that there are two types of USB C to HDMI converters.
USB-C to HDMI adapter
USB-C to HDMI cable
Both methods are widely used to connect small devices to a TV or other displays. But, HDMI to USB C cable is preferred over Adapter.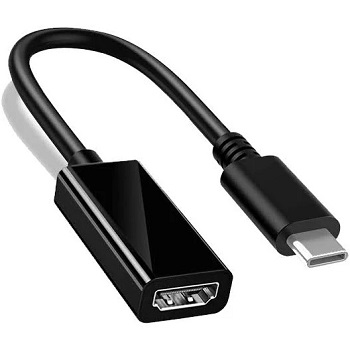 Looking for USB-C to HDMI Adapters? Best USB-C to HDMI Adapters in 2023 (Our Top 7 Picks)
Why is USB C to HDMI better for connecting monitors?
The simple answer is, it depends on the application. The performance is always superior in the case of wired connections rather than wireless connections like WiFi. Although other methods like screen sharing exist, high-resolution applications like mobile gaming demand a technology that significantly reduces any type of transmission lag.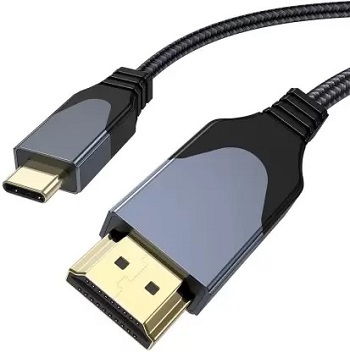 Among the wired connections like USB-C to HDMI cables or adapters, the cables appear as the best option regarding the transmission quality, easy device movements (since it is quite longer than adapters), etc.
USB-C to HDMI adapter works with ordinary HDMI ports in the display. But USB-C to HDMI cables only works with HDMI Alt Mode.
What is HDMI Alt Mode?
HDMI Alternate (Alt) mode brings USB-C and HDMI connectivity together. With a USB to HDMI cable, small devices without HDMI ports can be connected to HDMI-enabled displays. It must be noted that we can utilize USB-C to HDMI cable only if the USB-C device has HDMI Alt mode. While, it is not necessary if we use a USB-C to HDMI adapter. It also delivers all the features of HDMI during signal transmission.
An example of such a USB-C to HDMI cable is UNI USB-C to HDMI cable. It can be used for tablets, laptops, PC, and smartphones.
---
---
The other popular features of HDMI Alt mode are High Bandwidth Digital Content Protection (HDCP 2,2), 4K resolution, Consumer Electronic Control (CEC), Dolby surrounds sound, Audio Return Channel (ARC), HDMI Ethernet Channel (HEC) and 3D Display.
Read also: What is HDMI ARC? How it Works and Do You Need it?
How can I find out whether my device supports HDMI Alt Mode?
Generally, a device with a USB-C port will support HDMI Alt Mode. To make a further confirmation, it is a good idea to check the device thoroughly. We can find the HDMI Alt logo on the box. It might be also specified in the user manual. If all these steps fail, just contact the manufacturer for an expert opinion.
Is HDMI to USB C Cable and HDMI to USB C Adapter the same?
No, though it sounds similar, the adapter is very different from the cable. They differ in technology as well as in physical structure. Both of them are used to extend the display.
USB-C to HDMI adapter as well as cable supports 4K resolution at 60Hz. But an advantage of cable is that it shows this performance with a cable length of about 3 to 15 feet whereas the adapter is too short in length.
For a better streaming experience like that for gaming, it is suggested to use a converter cable rather than the adapter. In terms of cost, the cable is more expensive than the adapter.