377 is a very small and popular non-rechargeable watch battery. It has a nominal voltage of 1.55 V, a capacity of up to 28 mAh, weighs 0.40 g, and is 6.8 mm in diameter and 2.6 mm in height. 
377 has a shelf life of 4-6 years when stored at room temperature which decreases to 1-2 years when stored at high temperatures. The 377 battery can be replaced with SR626SW, AG4, LR626, 377A, and 376 batteries.
The 377 has a good battery capacity almost twice that of alkaline button cells. Since these are light in weight, the energy-to-weight ratio is very high. But are comparatively expensive due to the usage of silver.
Must read: Important Battery Terms & Characteristics Explained (with Examples)
What is a 377 Battery?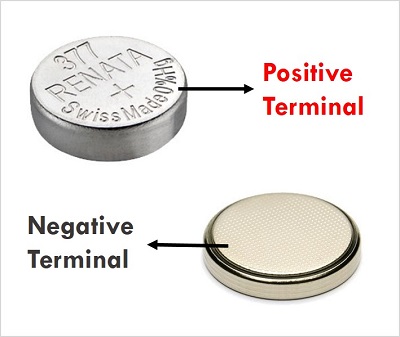 377 battery uses silver oxide as the cathode and zinc as the anode. Since they use alkaline electrolytes like sodium hydroxide (NaOH) or potassium hydroxide (KOH), the performance of 377 batteries is usually compared with that of alkaline batteries.
The 377 batteries are popular as a battery that finely adapts for high and low discharge devices. Another advantage of these batteries is that it delivers stable output throughout their service life due to the multi-drain technology. Using potassium hydroxide as the electrolyte enables these batteries to operate even under heavy drains and at lower temperatures.
The discharge levels of 377 batteries are more stable than other alkaline variants and the self-discharge possibilities are relatively low. Apart from these advantages, using a small amount of mercury in these batteries prevails as a serious limitation.
Which batteries are equivalent to 377?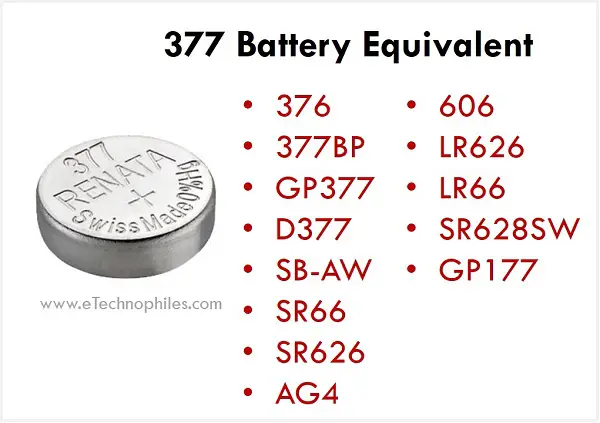 376, 377BP, GP377, D377, V377, E377, E377A, E377CA, 377A, 377X, are the most common replacements of 377 batteries.
The other equivalents of 377 include SB-AW, SR626SW, SR66, SR626, AG4, 606, LR626, LR66, SR628SW, and GP177.
377 battery specifications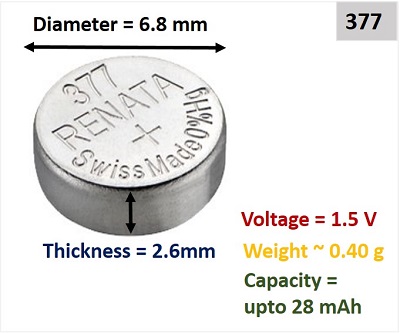 The table lists the essential features of a 377 battery.
| Feature | Value |
| --- | --- |
| Shape | Compact and round |
| Chemistry | Silver oxide |
| Nominal Voltage | 1.55V |
| Diameter | 6.8mm |
| Thickness | 2.6mm |
| Capacity | 28 mAh |
| Weight | 0.40 g |
| Operating Temperature | -10 – +60 °C |
| Shelf Life | 4-6 yrs |
377 battery features
The nominal voltage of the 377 battery is 1.55 V. It weighs 0.40 g and is 6.8 mm in diameter and 12.6 mm in height.
---
Related to coin cells/battery
---
What is a 377 Battery used for?
377 batteries fall under coin cells. Thus they are ideal for small portable devices. The high and low drain capability of 377 batteries makes them ideal for devices that need to be used continuously.
The small-sized medical devices like hearing aids, photoelectric exposure meters, digital thermometers, glucometers, heart-rate monitors, and blood pressure cuffs are some of the top applications of 377.
The other applications include watches, keyless remote entry systems, small electronic toys, calculators, pager, etc.
FAQs
Are 377 and 376 batteries the same?
377 and 376 batteries have the same chemistry, which is silver oxide. But 377 is a low-drain battery and 376 is a high-drain battery. So they are used in the application based on this perspective. Since both batteries produce stable voltage, both of them are suitable for watches.
Are 377 batteries and 377A batteries the same?
Both these batteries differ in their chemistry. 377 has a silver oxide base, while 377A is alkaline. Although some applications specifically require 377A batteries, both 377 and 377A batteries can be used interchangeably.