Both L293D and L298N motor drivers are commonly used by students and hobbyists in various projects all over the world. But sometimes you have to select the one which is best suitable for your project application. And there is a lot of confusion going on between L293D VS L298N. So in this post, we are going to discuss some of the major differences between L293D and L298N motor driver.
Differences between L293D VS L298N: 
| | | | |
| --- | --- | --- | --- |
| Sr. No. | Property | L298N | L2983d |
| 1 | Logical voltage | 4.5V~7V | 4.5~5.5V |
| 2 | Drive voltage | 5V-46V | 4.5V-36V |
| 3 | Logical current | 0-36mA | 1.2A |
| 4 | Max. Continuous Output Current | 2A | 600mA |
| 5 | Max power | 25W |  – |
| 6 | Dimensions | 44 x 44 x 28 mm | 70x54x18 mm |
| 7 | Weight | 26 gm | 35 gm |
| 8 | Efficiency | 30–70% | 50–90% |
| 9 | Fast direction switching | Heating | Less heating |
| 10 | Breadboard friendly (IC) | NO | YES |
Drive voltage or the external voltage required to run the DC motor can be anywhere between 4.5V to 36V for L293D whereas between 5V to 46V for L298N.
IC operating voltage for L298N is between 4.7V to 7V and between 4.5V to 5.5V for L293D
The maximum output current through one channel of L293D is 600mA whereas L298N Motor Driver can give up to 2A from both channels. 
L293d contains a quadruple half-H driver meaning all the four input-output lines are independent. While L298N is a dual full-H driver meaning only the full drives can be used.
Protective Diodes are used against back EMF .They are internally added in L293D but must be connected externally in L298N.

L293D is used for controlling motors rated at low current while L298N can be used for controlling high current motors also.

L293D motor driver IC is breadboard friendly but L298N motor driver IC can not be inserted on a breadboard.
L298N Motor Driver Basics:
L298N is a 15 pin IC used for controlling high current drawing motors and thus cost a little bit more than L293D. Protective diodes for the protection against back EMFs are connected externally. It also consists of a heat sink as it has a high current/voltage rating (operating temperature is between 0oC to 130oC).
For driving motors in both directions, L298N uses a dual H bridge circuit. This module can operate between 5V to 46V and can supply current up to 1.2A for a single channel. And thus consumes high power (25 W).
Features of the L298N Motor Driver Module:
Operating supply voltage up to 46 V

Total DC current up to 4 A. 2A per channel

Low saturation voltage

Overtemperature protection

Logical input voltage up to 1.5 V

High noise immunity
L298N Motor Driver Pinouts: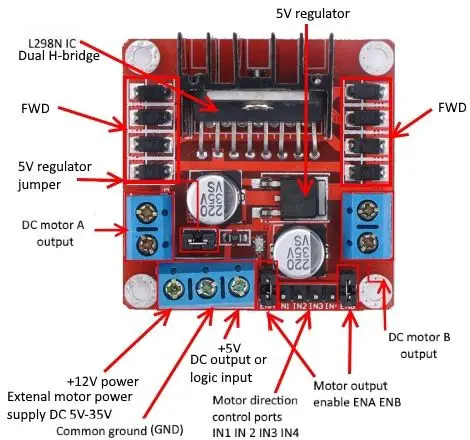 **Read this detailed article to know more about L298N: All about L298N
L293D Motor Driver Basics:
L293D is a commonly used 16 pin IC for controlling DC motors. They are popular because of their cheap cost, internally connected protective diodes for protection against back EMFs, no need for a heat sink, and good resistance to high temperature (operation temp. 0oC to 70oC).
This IC operates between the voltage of 4.5V to 36V and supplies a current up to 600 mA. It consists of four high current half h-bridge circuit for driving the motor in both directions.
Specifications of L293D Motor Driver IC:
Wide Supply-Voltage Range: 4.5 V to 36 V

Separate Input-Logic Supply

Internal ESD Protection

High-Noise-Immunity Inputs

Output Current 600 mA Per Channel

Peak Output Current 1.2 A Per Channel

Output Clamp Diodes for Inductive Transient Suppression

Operation Temperature 0°C to 70°C.

Automatic thermal shutdown is available
L293D Motor Driver Pinouts: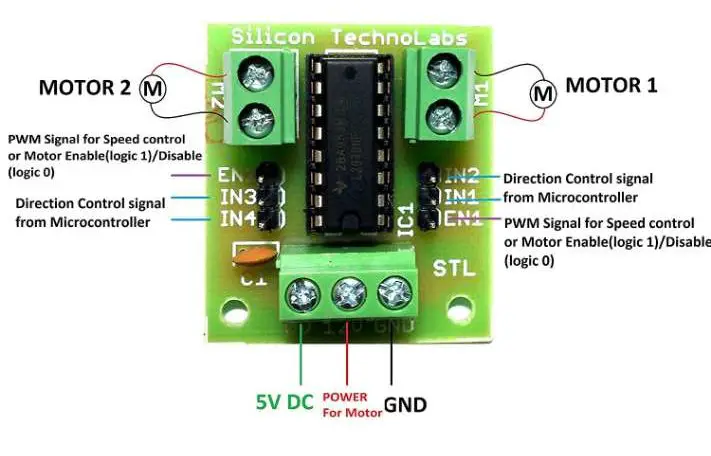 **Read this detailed article to know more about L293D: All about L293D