Finding good raspberry pi pico projects is not that easy as the board is still very new. So, to help you with this, we have compiled 20 new raspberry pi pico projects in this article.
Raspberry Pi Pico is a small, fast, and versatile board having RP2040 at its heart, a brand-new microcontroller launched by the Raspberry Foundation. It can be programmed using MicroPython or C language.
You can watch all of the projects in this compilation video :
Now let's see our selected projects one by one.
---
---
6 DOF Robot Arm
Let's see our first project from the Raspberry pi pico projects list. It is a robotic arm with six degrees of freedom.
The degree of freedom, or DOF, defines the position of a rigid body (in space) with a minimum number of independent variables. So, as the DOF increases, the complexity of the body increases.
The 6 DOF gives this arm a great range of motion. You can use this arm at your home or office to make your tasks easier. You can use it as a coffee maker or to pick-and-place objects. The choice is up to you.
 To know more about this project, click here. 
Bluetooth controlled robot
Our next project is a Bluetooth handheld controlled robot. The components required to build this robot are a Raspberry Pi pico, an HC-05 Bluetooth module, an L298N motor driver, DC motors, a 12V battery, and some jumper wires.
The chassis for this robot is 3d printed. Using an app, you can control the direction and speed of the robot. The tracks (at the bottom) provide better traction. They let the robot run smoothly on rough terrain without getting stuck.
 To know more about this project, click here. 
Fizz Buzz Multiplication Game
So, what is a fizz buzz? Fizz buzz is a counting game designed to learn your 3- and 5-times tables. In the game, as the count starts, you have to tap the buttons, indicating the fizz, buzz, or both.
Instead of three and its multiples, you will press fizz. And for the number five and its multiples, you will press buzz.
So, the counting goes like one, two, fizz, four, buzz, fizz, seven, and so on.
 To know more about this project, click here. 
2G Expansion board
If you are looking for an easy, efficient, and economical communication board, then your search stops here. Meet the Raspberry pi pico 2G expansion board. You only need a SIM card to make this module work as a phone with a calling and call receiving feature.
To work with it, you have to attach the components like an antenna, a SIM card, Raspberry Pi Pico, and you are good to go. You can even connect this board to other devices via UART, USB2.0, or GPIOs.
 To know more about this project, click here. 
Pico Primer Kit
The very next project is a Raspberry pi pico expansion board. It comes with a built-in OLED screen and a buzzer. With this in your workbench, you only have to plug in the necessary sensors, like MPU-6050, DHT11, MQ135, and so on. For taking the analog readings, you can use a slide potentiometer. Isn't this an easy way to work on your projects? What do you think?
 To know more about this project, click here. 
Raspberry pi pico motor party
This project is a small collection of raspberry pi pico projects.
Using a single Raspberry pi pico, you control a servo, stepper, and DC motor. Each one the motor runs for a specific time after pressing a switch.
The interesting part of this project is that the rotation of each motor is unique, i.e., no two motors run similarly.
 To know more about this project, click here. 
Obstacle avoidance robot
This robot senses the obstacles around it using an ultrasonic sensor.
So, the robot first measures the distance of its nearby surroundings from its current position. After comparing all the values, the robot moves in that direction where the distance is maximum between the sensor and the object.
The robot stops as soon as the distance between the sensor and object is less than the predefined value. It again checks for a new direction to keep moving. This way, it never collides with nearby objects.
 To know more about this project, click here. 
Raspberry Pi pico based Tricopter
It is interesting to see that how some raspberry pi pico-based projects turn out to be incredible.
With just three coreless DC motors, an outer frame, and a raspberry pi pico, you can fly a tricopter using your smartphone. The lightweight design of the overall model gives you an exciting experience while flying the copter.
 To know more about this project, click here. 
Mandelbrot Pico
It draws a Mandelbrot using a Raspberry pi pico. Every single pixel in the image requires a lot of complex calculations. But, don't you worry, as Rasberry pi pico handles all the mathematics.
Using rotary potentiometers, we can select the area that we want to zoom. Once you find the perfect portion, press the zoom button to get a clearer image on the OLED display.
 To know more about this project, click here. 
Keyboard Shortcuts Keypad
If you work on multiple programs on your computer, you can save time and make your task quicker using this shortcut keypad.
Using this project, you can select twelve different keyboard shortcuts. A toggle switch lets you switch between the programs. The LCD and the keys get updated according to the application that is currently selected.
 To know more about this project, click here. 
Button controlled Stepper motor
This project requires three switches and a Raspberry pi pico to control the movement of the stepper motor.
Two buttons make the motor rotate in either direction. The third button brings back the stepper motor to its initial (home) position.
To reset the home position, press and hold the third button for two seconds. It sets the current location of the stepper motor as the new home position.
 To know more about this project, click here. 
Darth Vader IoT cryptocurrency tracker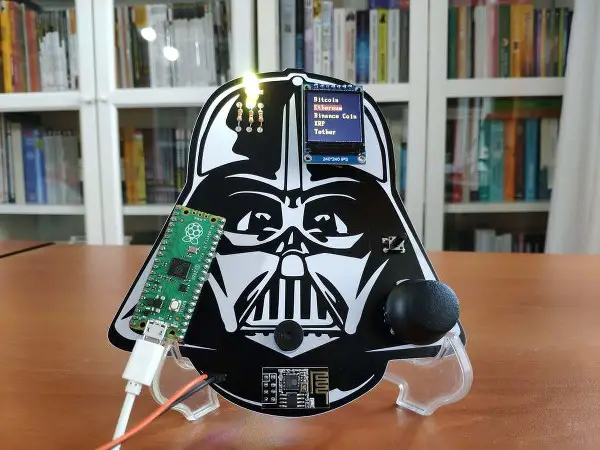 It monitors real-time cryptocurrency data and notifies for any price change.
With a joystick, you can toggle between five different cryptocurrencies. Selecting a particular cryptocurrency gives you the information on current price, total volume, price change in the last 24 hours, and the percentage change in USD in 24 hours.
So, with this simple raspberry pi pico based project, you have all your crypto info in one place.
 To know more about this project, click here. 
Raspberry Pi Pico MIDI controller
This project uses a Raspberry pi pico to make a USB-MIDI controller with sixteen LED arcade buttons. The electronics fit inside a 3-D printed case, and it features a handle that works as a kickstand.
Using a joystick and an OLED screen, you can select a button on the MIDI controller. After selecting, you can either edit or compare different MIDI notes.
 To know more about this project, click here. 
Line following robot
This robot detects and follows the course of a black line. Wondering, how does it work?
The robot uses Infrared sensors placed at the front of the robot. An IR sensor emits infrared rays on the surface while an IR detector picks up the reflected waves.
The intensity of the received light varies according to the surface, i.e., a light surface reflects more waves than a black surface. So using this principle, the robot always follows the desired line.
 To know more about this project, click here. 
Raspberry Pi Pico based Snake game
You might have seen many raspberry pi pico based gaming projects. But, this one is quite different and exciting!
It is a snake game in which the snake does not move in a straight line but slathers around. You can control the game using four tactile switches and see the visuals on an OLED screen. The snake grows bigger after eating an egg, and the game speed also increases.
 To know more about this project, click here. 
R-pi Pico Clock
Is there something even more precious than time?
So, using this pico clock, you can make sure that you utilize your time wisely. This clock has five skins that display time differently. Moreover, the module also features a stopwatch and a timer. You can easily insert some bitmap animations that run on the display for a predefined time.
 To know more about this project, click here. 
Raspberry pi Pico piano
Playing classical melodies on a piano refreshes us from a stressed situation. But what can you do when you don't have a piano at home?
Well, you can make your own using a Raspberry pi pico and resistors. It is hard to believe, but this project is one of the best raspberry pi pico projects on a creativity level. Just follow the project and put an end to your worries.
 To know more about this project, click here. 
Font design for Raspberry pi pico
It is an exciting project that lets you display custom-made fonts on a Raspberry pi pico display.
Although the programming is tedious but with this tutorial, you can complete it in no time. Whether it is a number, an alphabet, an emoji, or a picture, you can design anything by changing some codes in the program.
 To know more about this project, click here. 
Matrix touch keypad
Creating a keypad for the keyboard shortcuts saves a lot of time.
This project does so by using a touch screen and a Raspberry pi pico. The screen lets you pick among twelve programmable tabs. You can easily assign a shortcut for each key by linking it with the particular application, so you don't have to waste more time by actually doing all the functions.
 To know more about this project, click here. 
Point to Point Railway model
It is one of those raspberry pi pico projects that finds application in everyday life. The project demonstrates how a locomotive moves within two set locations automatically.
The locomotive starts from its initial position at a slow speed. After crossing a sensor, the locomotive picks up speed and heads toward its destination.
A similar sensor slows down the train's speed before stopping at its destination. The train stops for a fixed time and follows a similar process to reach its initial position.
 To know more about this project, click here. 
So, these were some of the best Raspberry pi pico-based projects shared by people from all across the globe. If you have similar or better ideas, do share them with the world.