The Lightning cable was introduced by Apple in 2012. It is an 8-pin connector, an upgrade to the 30-pin dock connector. This was then improvised by iPad Pro supporting USB 3.0 host in 2015. Later in October 2018, the lighting connectors were replaced with USB C in the new range of iPad Pro models.
What are the features of Lightning cable?
The primary and the most highlighted application of lightning cables is to charge the devices.
Apple products like iPhone and iPad are available with a lightning cable port. These devices can be charged using a USB to lightning cable or USB-C to lightning cable.
The lightning connector connects to the lightning port of your Apple device. The USB/USB-C end can either be connected to an adapter or to the USB/USB-C port of your computer/laptop.
The lightning cables are exclusively manufactured by Apple and thus consist of an authentication chip so that a third party cannot manufacture these cables without approval. (Read More)
Apple has expanded the compatibility of these cables via different types of adapters to connect with other interfaces like USB, HDMI, VGA, SD Cards, etc.
**Want to know how thunderbolt differs from USB-C? Thunderbolt vs USB-C (11 Key Differences)
What are Lightning Adapters?
Lightning Cables are exclusively supported for Apple Devices. But many like to use it due to its quality and high-speed feature. Hence its usage is extended to several standards using different adapters. Let's go through the various Lightning adapters available in the market.
Lightning-to-USB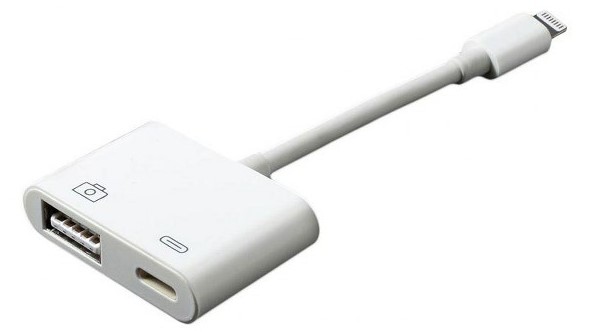 This enables you to make an additional USB port for your iPhone or iPad. USB, Micro-USB, and USB-C models are available for this converter.
Lightning-to-HDMI
With this adapter, it is possible for you to connect an HDTV with your iPhone or iPad. This adapter also comes with lightning ports that help to charge your Apple device.
Lightning-to-3.5-mm Headphone Jack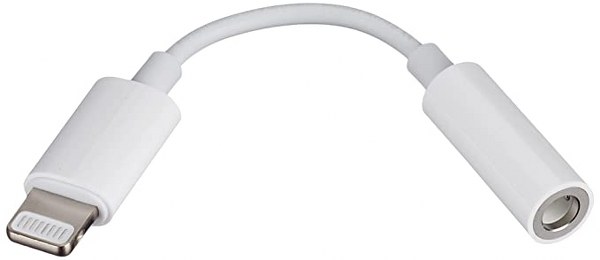 You can connect the standard 3.5 mm headphones with Lightning ports using this adapter. Hence it becomes possible to connect headphones/earphones while using iPhone or iPad.
Lightning-to-VGA
If your Apple device has to display video through a DGI standard device like a monitor or a projector, don't hesitate to make use of this adapter. Although it does not support audio, it can be an ideal choice for work presentations.
Looking for best Lightning cables?
Lightning Cable vs USB-C(Thunderbolt)
It's confusing to choose between a Lightning cable, Thunderbolt, or USB C. But, we can help you to land on a decision with the help of a comparative study. Let's see how the lightning cable is comparable with the USB C or Thunderbolt.
Read also: Thunderbolt vs USB-C (11 Key Differences)
Note: Since USB-C and Thunderbolts have similar characteristics, they are together mentioned as USB-C for easy description.
Power Transfer
Although Apple has not officially disclosed the power transfer capability of Lightning Cables, it is known to transfer 12W of power. Whereas, USB C is capable to charge as well as receive 100W power, which is ideal to charge a laptop of 60W. Since it delivers less power, Lightning cables are not suitable for fast charging. However, USB C is an ideal choice for fast charging applications.
Data Transmission
The data transmission specifications of Lightning cables are also not formally released by Apple but it is evident that USB C is notably faster than Lightning Cables. While the transmission speed of lightning cables is recorded as 480Mbps, the USB C transmits data with the speed of 10Gbps which is several times better than Lightning Cables.
Connector Symmetry
A similar feature in Lightning Cables and USB C is the symmetric connector which can be inserted into the port in either direction. Not only does it helps in establishing an easy connection, but also makes the connector slimmer thereby thinning the ports. It thus consumes less space and so makes the device slimmer.
Reliability
The major characteristic of Lightning Cables is that they can only be used with Apple devices. Hence the device, as well as the cable, are safe for longer periods. This itself does not state that Lightning cables are more reliable. USB C is also integrated with power supply controls using an E-Maker chip that runs in Configuration Channel. Thus, whether we use any cable, it is safe when used to its maximum specification.
Durability
You might have heard that Lightning Cables break easily as compared to USB C cables. This might be because lightning cables are thinner than USB C cables. While USB C has announced 10,000 cycles of safe connect-disconnect cycles, no such data is available regarding Lightning Cables. But, the ultimate durability of any device highly depends on the way we handle and maintain them.
Cost
As Apple devices are relatively costlier, the Lightning Cable is costly too. The MFi certifies that Lightning Cables are costly due to the Apple certification and the "security chip" inside the cable. Even though cheaper Lightning Cables are available in the market, they may not be Apple certified.
FAQs
Why is it Called a Lightning Cable?
An authentic reason for this case is not officially revealed by Apple. Still, we can assume that lighting cables are so-called because they can transfer data faster than other cables used by Apple.
Is Lightning the same as USB-C?
No, lightning cable differs in many aspects from USB-C. First of all, the lightning ports can be found on apple devices only, whereas USB-C is now being integrated into almost all devices due to its advantages and convenience in handling.
The data transfer speed of lightning cables is 25-35 Mbps and that of USB-C is 10Gbps which is several times higher than lighting cables.
Can you plug USB-C into Lightning?
Lightning cables are designed to work with Apple devices. Hence we cannot plug USB C into lightning even though both have invertible connectors. If you want to interface USB-C with lightning ports or vice versa, the USB-C to lightning cable are available in the market. The figure shows a USB-C to lightning cable.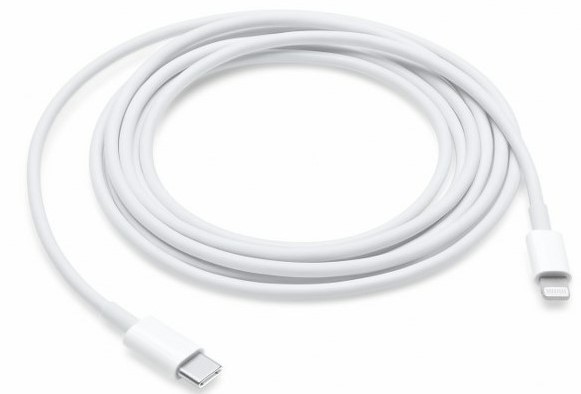 The difference in the connector structure is clearly visible in this figure. The lightning port is designed to receive signals from 8 pins while the USB-C has a 24-pin connector.