Thunderbolt vs USB-C is one of the most asked queries on the internet. Both ports have several features and advantages. With so many unique features, it is difficult to select one out of the two.
This article gives a detailed comparison, where we will inspect the similarities as well as the differences between USB-C and Thunderbolt ports. This not only helps you to make a wise choice, but it also helps to identify whether the port(or connector) you have is either USB-C or Thunderbolt.
What are the differences between Thunderbolt and USB-C?
Let's list out the distinctions between Thunderbolt and USB C in the form of a table, to get a better idea of the two.
Feature
USB-C
Thunderbolt
Launched by
USB Implementers Forum (USB-IF)
Intel, in collaboration with Apple
Year of launch
2014
2011
Versions
No variants within USB C. But USB 3.0 has higher versions such as USB 3.1 and USB 3.2.
4 versions: Thunderbolt 1, Thunderbolt 2, Thunderbolt 3, Thunderbolt 4
Number of pins
24
Thunderbolt 1,2: 20 pins
Thunderbolt 3,4: 24 pins
Cable Length
Up to 4m
3m
Data Transfer Speed
10Gbps
10Gbps to 40Gbps
Charging Speed
2.5 Watts (if no Power Delivery Protocol)
15 Watts (if no Power Delivery Protocol)
Identification
No distinct identification feature
Thunderbolt logo on the connector and nearby to the port.
Use
Highly utilized in all the new models of laptops and other devices
As of now, not a frequent presence. Usually used by Apple devices
Cost
Reasonable
More expensive
Differences between USB-C and Thunderbolt
What is USB-C?

USB C is the most recent USB type which was launched in 2014. It is listed under the USB 3.0 standard. It has already become one of the highly demanded USB models and is now integrated into all the new models of mobile, phones, laptops, and other electronic devices.
What are the features of Type C?
The key attraction of USB C is its speed of data transmission. The transmission speed of USB C is 10 Gbps which was several times higher than the speed of other existing models.
The device needs less space to connect to a USB since it has a small size connector and ports. The symmetric shape of the connector is also a widely accepted feature since it became easy to insert into the port in either direction.
What is Thunderbolt?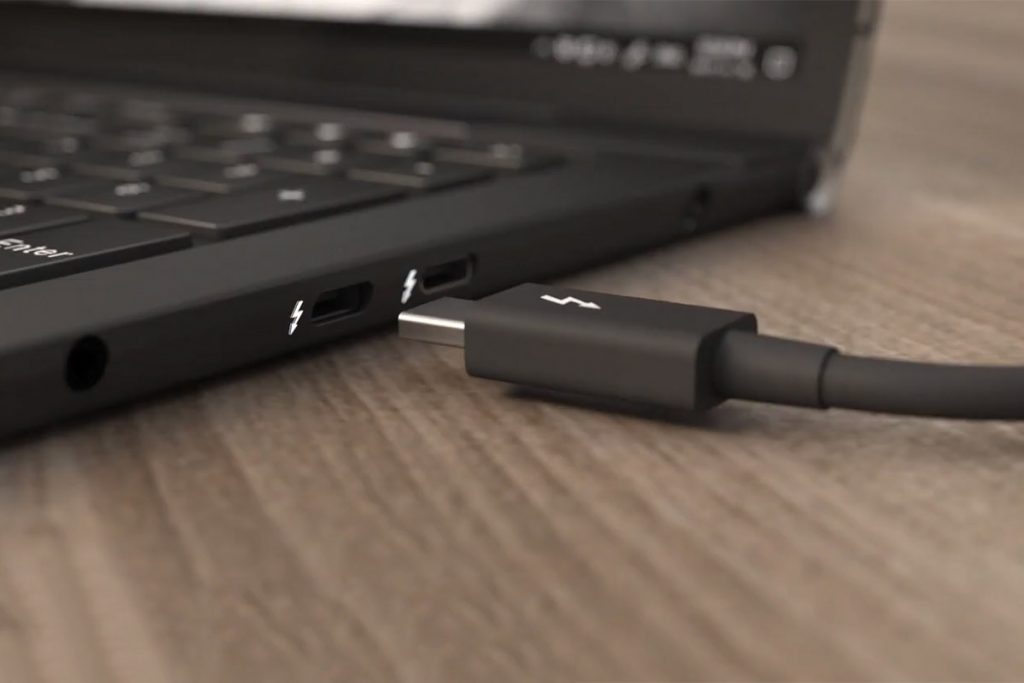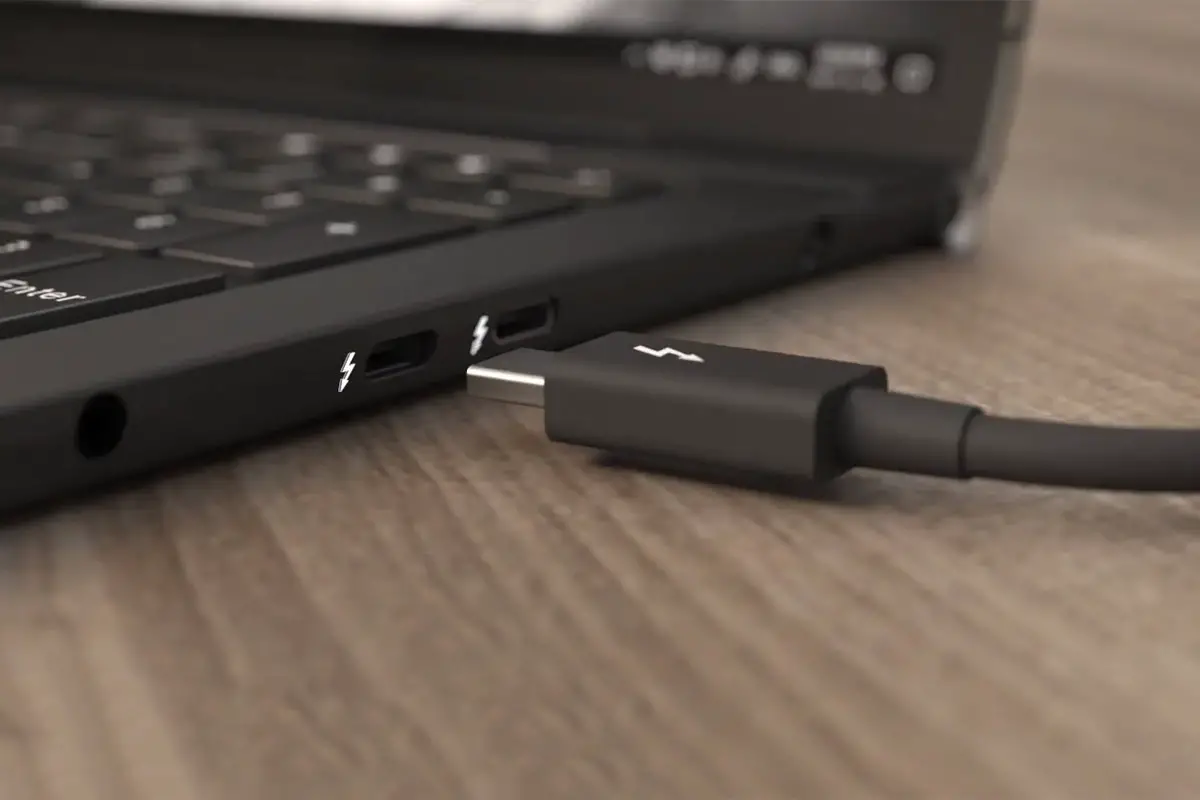 Thunderbolt is a high-speed technology that was launched by Intel, in collaboration with Apple in the year 2011. Thunderbolt ports were introduced in four different versions- Thunderbolt 1, Thunderbolt 2, Thunderbolt 3, and Thunderbolt 4, with, Thunderbolt 3 being the most popular. The Thunderbolt ports are exclusively identified with the 'zig-zag arrow' icon on the connector and near the port as shown in the figure above.
Read in detail: Difference Between 4 Types of Thunderbolt (1,2,3,4)
What are the features of Thunderbolt?
Thunderbolt is the fastest port in the market (till now) that supports a data speed of up to 40 Gbps. It can simultaneously display two 4K monitors from the same port.
Thunderbolt vs USB-C- Why compare them?
The current generation is demanding a quick response. To meet this demand, manufacturers are turning to devices with a faster speed that cost less than their competitors. This has led some companies to produce similar products but with a little bit different features, like USB-C and Thunderbolt.
A precise comparison helps in better choices by identifying key differences between two ports such as device compatibility, performance enhancement levels, etc.
Thunderbolt vs USB-C: Similarities
Most of us feel that USB-C and thunderbolt ports are the same. The major reason behind it is that Thunderbolt 3 and 4 use USB Type C connectors. These models have 24-pin connectors like that of USB Type C.
Another similar feature in the case of USB C and Thunderbolt is in the case of speed. Although Thunderbolt is the fastest port (till now), the minimum speed is the same as that of the maximum speed of USB C(SuperSpeed USB), which is 10Gbps.
Like USBs, hubs are also available for thunderbolts to make extended connections.
---
Looking for best USB products?
---
Which one is best for you- Thunderbolt or USB-C?
The process to select between Thunderbolt and USB-C depends on your requirement. We have listed some cases that will help you in making the correct decision.
If speed is your topmost priority, then it is obvious to select Thunderbolt ports, as they are amazingly fast. But, if 10Gbps speed is more than enough for you, then opting for USB-C is better.
If you use Apple devices, then Thunderbolt ports give the best performance.
If you prefer working with a longer cable length, then USB C is a good choice.
USB C is cheaper than Thunderbolt. So you can get comparable performance at a lesser price with USB C. If the cost doesn't matter, it is good to have an excellent port like Thunderbolt.